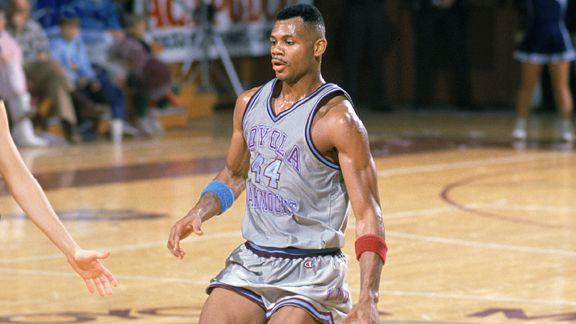 Lisa Blumenfeld/Getty Images
Hank Gathers and Loyola Marymount only cared about how much they scored, not how much they gave up.
The Run-and-"Shoot!" Dodgers are still at it. And I'm starting to wonder whether the team secretly replaced manager Joe Torre with former Loyola Marymount coach Paul Westhead.
It has been more than 30 years since Major League Baseball has seen a game in which both teams scored at least 20 runs, but the 2010 Dodgers are looking increasingly likely to be in the next one. The runs scored (6.6 per game) and allowed (6.2), boosted by tonight's 14-6 victory that saw the team score in eight of nine innings, are mindblowing for this blogporter.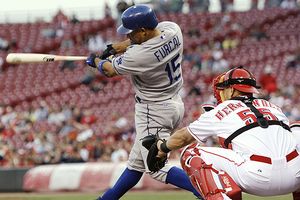 Al Behrman/AP
Rafael Furcal tonight: walk, single, double, triple, error.
The situation in a nutshell: Rafael Furcal makes a unforced error at short that leads to two unearned runs off Hiroki Kuroda in the sixth inning, then comes back in the top of the seventh with an RBI triple – his fourth RBI and fourth time on base in the game.
Four times on base: Furcal, Matt Kemp (seventh home run, six of which have gone to center or right field), Manny Ramirez (.510 on-base percentage), Andre Ethier (.460 OBP/.689 slugging).
Three times on base: James Loney.
Two times on base: Russell Martin.
One time on base: Casey Blake DeWitt.
Kuroda had his worst outing of the season so far, but still would have emerged with a quality start had he gotten better play behind him. He threw 103 pitches over 5 2/3 innings, allowing three earned runs and three unearned runs.
There were a couple of encouraging signs from the bullpen. George Sherrill allowed the two unearned runs to score in relief of Kuroda, and Jeff Weaver had to leave after one batter with what appeared to be a hamstring problem, but Ronald Belisario was perfect in his first inning of the year, and Carlos Monasterios got the final five outs on 27 pitches.
The Dodgers stayed within 1 1/2 games of the National League West-leading … Padres.
* * *
The night's most bizarre play took place in the fourth inning. With the bases loaded and two out, Cincinnati pitcher Aaron Harang hit a sinking liner into right field. Andre Ethier dove and came up with the ball for what was ruled the third out. Reds manager Dusty Baker came out steaming – but in almost no time, the umpires conferred and then called over Torre to tell him they were ruling the ball had bounced into Ethier's glove, and so they would be awarding Harang a single and advancing all runners one base. (Torre seemed more disappointed than disgusted by the reversal, not really arguing at all).
At the time, I was with broadcaster Steve Lyons in thinking I had never seen this kind of play overturned. On TV, we kept being shown replays that weren't entirely conclusive, because the ball, glove and grass all sort of merged together. But I didn't even think the replays mattered. The whistle had already blown, so to speak – I didn't think the umpires could assume what would have happened if they hadn't initially ruled an out.
I asked baseball authority Bob Timmermann of Native Intelligence what his opinion of the play was:
… Umpires have the ability, if not the duty, to change calls in this situation. Granted, it is a judgment call, but pretty much everything is a judgment call.

The umpires then had to decide what to do with the runners. There is no specific rule to cover this. But, Rule 9.01b gives the umpires the right to rule on anything not specifically spelled out. It's the Elastic Clause of the rulebook. (A famous example of this was Alex Rodriguez being called out in Game 6 of the 2004 ALCS for slapping the ball out of Bronson Arroyo's glove.)

The umpires decided that the fairest way to solve the matter was to give Harang a single and let everyone else move up one base. This is not much different than the umpires deciding how many bases to award on fan interference. (It could be one, two, three, or four.)

Some calls by umpires aren't reversed for practical reasons, like balls and strikes. (Checked swings are an exception.)

TV replay wasn't used because it wasn't a home run call. That's the only time, it is allowed.

Why didn't the Dodgers protest? Because there was nothing to protest. Those only prevail if a rule is misapplied. This was just a judgment call that was initially misjudged and then corrected.

Umpires do make mistakes. I think they should get credit for trying to make up for an error.
* * *
The delight of extra innings is nicely expressed by Jim Caple of ESPN.com.
Carlos Zambrano, the highest-paid and normally best pitcher for the Chicago Cubs, has been sent to the bullpen.