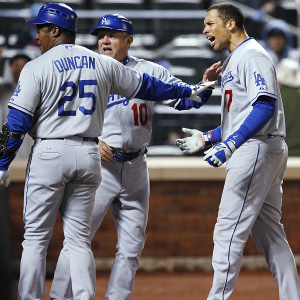 Kathy Willens/AP
James Loney can't believe tonight's strike three call against him – nor the downward slide of the Dodger season.
So far in 2010, these Dodgers have been something – as in, it's always something.
With their 10-5 loss to the Mets in the second game of today's doubleheader, the Dodgers now have the worst record in the National League – tied at 8-12 with Atlanta and Pittsburgh, which won the season-opening series between the two teams.
Not for lack of effort, the team has simply found a way to lose. The Dodgers aren't loafing, but they're not executing – not enough of them for long enough. You could say there were turning points today, if you could also say there are turning points when you're sitting in a dunk booth.
I don't think the Dodgers take the field defeated, but they've left me feeling that way. Lately, wins feel like aberrations.
They get bad breaks – the lowdown called strike three on James Loney with the bases loaded and two out in the top of the fourth tonight made the Dodger first baseman angrier than most of you have probably ever seen. But everyone gets bad breaks.
They get hurt – three Dodgers to the disabled list in the past week, and now Rafael Furcal's health is back in doubt, reports Tony Jackson of ESPNLosAngeles.com. You can't win if you can't stay healthy.
They're out of sync – pitching, defense and hitting almost never working at once.
Wednesday marks the end of a nine-game roadtrip that has already yielded six losses. We'll see if home cooking this weekend helps fix things; we'll see if the Dodgers are getting their bad fortune out of the way early. Time and potential are on the Dodgers' side. The question is whether reality is.