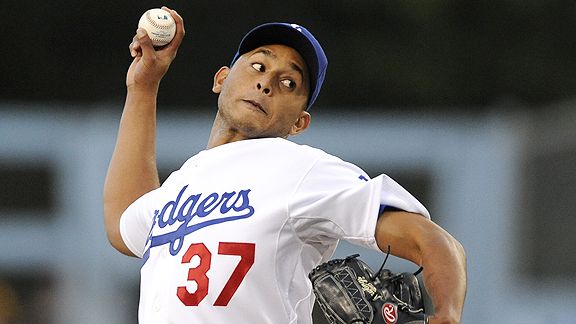 Gus Ruelas/AP
Carlos Monasterios allowed three baserunners in each of the first two innings, but just one run.
Fluke or find? Carlos Monasterios continues to make the question an intriguing one.
From a town called Obscurity come the man who continues to make it across the tightrope when the Dodgers need him to, Monasterios this time pitching four innings of one-run ball – while also keying a game-changing three-run third inning with his first career hit – in the Dodgers' 5-1 victory over Pittsburgh tonight.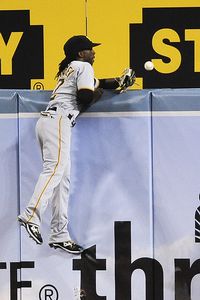 Gus Ruelas/AP
Andrew McCutchen can only watch Andre Ethier's third-inning drive go beyond his reach.
Working with a 75-pitch limit, Monasterios didn't avoid trouble, giving up three hits (including a first-inning Andrew McCutchen home run) and a walk while hitting two batters in the first two innings, but he held strong in adversity. And in his final two innings, he retired six of seven batters.
In the bottom of the third, Monasterios and Russell Martin singled ahead of Andre Ethier's three-run homer that gave the Dodgers a lead they didn't come close to surrendering.
Ramon Ortiz succeeded Monasterios and was even more impressive, striking out five in three innings while allowing two baserunners, and Hong-Chih Kuo pitched a perfect eighth. I haven't gotten to the Ramon Troncoso story yet, but inexplicably the righty pitched a one-hit ninth in his 16th appearance in 24 games – a 108-game pace. Yeah, this is worth exploring.
In the meantime, the Dodger bullpen, counting the nine innings tonight, has allowed one run in its past 14 2/3 innings.
Ethier and James Loney each added two doubles, and Reed Johnson had a double and a single.