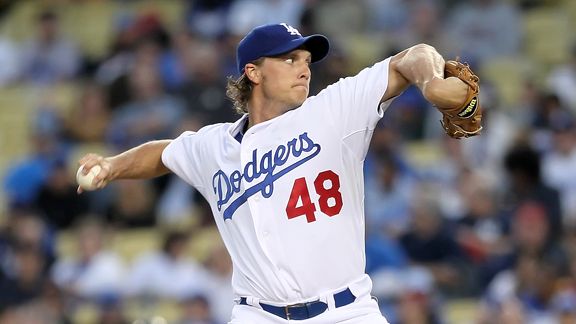 Jeff Gross/Getty Images
John Ely
With a near-perfect changeup offsetting a fastball that sat in the high 80s, John Ely simply dazzled in his second major-league start, which the Dodgers won, 7-3.*
For the first six innings, Ely, who turns 24 in a week, put the fun in efficiency, requiring only 80 pitches to shut out Milwaukee on two singles and no walks while striking out seven. He retired 16 batters in a row after allowing a second-inning hit to Casey McGehee. His only three-ball counts in the first six innings came against Jim Edmonds, who struck out each time (and one other).
The Brewers pecked away at Ely in the seventh, fouling off 11 of his 28 pitches to scratch across their only run. It remains to be seen whether Ely can survive with that fastball, but if he can keep pairing it up with that change while attacking the strike zone, there's potential. And if nothing else, he was a sight for sore eyes and arms tonight.
The Dodgers earlier indicated that Ely would head back to the minor leagues after today's performance to make room for Jeff Weaver coming off the disabled list, but it's almost unfathomable that the team would do so with its starting pitching in the disarray it has been in. Keeping Ely would require the Dodgers to shed Ramon Ortiz – if somehow the Dodgers can't wrap their head around letting him go, then Ely will rejoin Albuquerque inside of 24 hours.
I'm looking at that last paragraph again. Keeping a 24-year-old pitcher with a plus changeup who threw six shutout innings would require the Dodgers to let go of 37-year-old Ramon Ortiz. This is kind of like the $100 question on "Who Wants to Be a Millionaire?"
*Footnote: The Dodgers won after Jonathan Broxton blew the save on a walkoff grand slam by Andre Ethier in the bottom of the ninth.