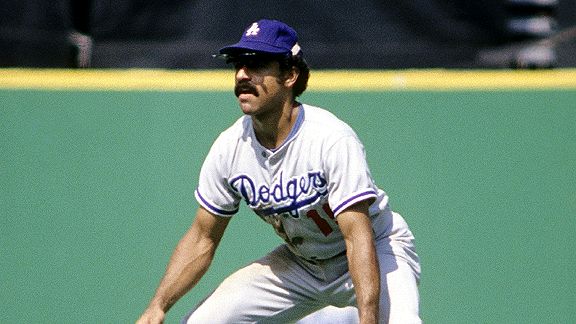 Focus on Sport/Getty Images
Second baseman Davey Lopes hit 28 homers in 1979 and stole 44 bases (in 48 attempts), all for a team that lost 83 games.
More stark stats: No Los Angeles Dodger team that started the season 11-16 or worse after 27 games has finished above .500, notes Eric Stephen of True Blue L.A. That got me thinking about the Dodgers' 1979 team again.
From Dodger Thoughts, February 1 (my first day at ESPN):
The year after the Dodgers lost two consecutive World Series in 1977-78, they were in last place at the All-Star break. …

The 1979 Dodgers, who seemed to have everything going for them entering the season except the departure of Tommy John, lost 31 of 41 games leading into the All-Star Game, digging themselves a hole so deep that not even a league-leading 43 victories after the break could save them. …

If the Dodgers falter (in 2010), it will undoubtedly be seen through the prism of the McCourts' divorce, with everyone pointing out how the Dodgers didn't get the reinforcements they needed. But not getting enough reinforcements is a historical pattern for the Dodgers. No Dodger team, in Brooklyn or Los Angeles, has ever made the postseason three years in a row. None. The 2010 Dodgers have a chance to be the first (not to mention a chance to be the first to win a World Series in 22 years). Their season will ride a thin line between ecstasy and disappointment.

There probably aren't any Dodger followers, including myself, that don't wish the team had more talent entering the 2010 season, that don't wonder if an opportunity to get over the top is being squandered. You always want your odds to be the best they can be. But they never are.