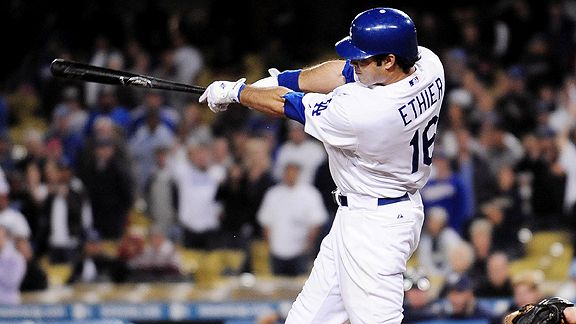 Gary A. Vasquez/US Presswire
Andre Ethier connects for his walkoff grand slam Thursday.
Andre Ethier's walking off right into the stuff of legend, the kind of thing people will remember decades from now, the kind of thing you want to appreciate even when times aren't great.
Ethier has converted 25 percent of his 44 walkoff opportunities, the highest percentage in baseball since 2006 (minumum 20 opportunities), according to David Pinto of Baseball Musings.
By comparison, Pinto writes, Adrian Gonzalez of San Diego has had 59 walkoff opportunities in that time and converted two, and Florida's Hanley Ramirez is 0 for 50.
Stat of the Day notes that Ethier's 11 walkoff hits since 2008 are twice as many as anyone else in baseball. Five of Ethier's past six have been homers.
Ethier remains a Triple Crown contender in the early going, tied for the National League lead in homers and tops in RBI, but despite what has been written elsewhere, he still doesn't lead the league in batting average. Washington's Ivan Rodriguez is 31 for 77 (.403) with 84 total plate appearances. Washington has played 28 games, so he needs 87 PA to qualify for the league lead. If you give him three more outs, as the rules would dictate at the end of the season, Rodriguez would be 31 for 80 – .388 – ahead of Ethier's .377. Ethier still leads the NL in slugging percentage and OPS.
By the way, what is Ivan Rodriguez doing leading the NL in batting average?
* * *
Quote of the mornin' comes from Ken Gurnick of MLB.com, in the wake of key contributions by John Ely and Xavier Paul in Thursday's victory: "Maybe instead of sending more rookies down, the Dodgers should be calling more of them up."