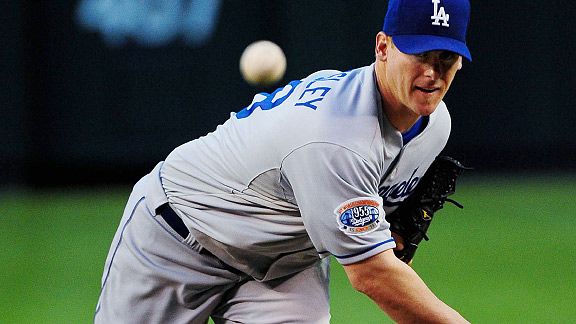 Matt Kartozian/US Presswire
Chad Billingsley zeroed in on 14 first-pitch strikes out of 23 batters faced tonight.
It was just about a wire-to-wire victory for the Dodgers tonight, who never trailed in defeating Arizona, 7-3. The amazing Andre Ethier had three more hits – part of the 17 men that reached base for Los Angeles.
In fact, it was such a good night that the most controversial moment of the game was merely this: Was a victorious Chad Billingsley taken out too soon?
Billinglsey, of course, has the millstone of not having pitched in the seventh inning of a game since July. But in his past three starts entering tonight, he had completed six innings in under 100 pitches. Even after he got hammered by Milwaukee in the first inning last week, he followed up with five shutout innings and was only at 90 pitches after six. Nevertheless, each of those past three starts Billingsley was removed from the game, either for a pinch-hitter and/or because Dodger manager Joe Torre felt he had had enough.
This, by the way, also happened during Billingsley's maligned second half of 2009: On six occasions after the All-Star Break, Billingsley pitched six innings in under 100 pitches while allowing three earned runs or fewer. It's not as if Billingsley hasn't struggled since last July, but this idea that he always melts down by the sixth inning is in some ways a joke.
So anyway, Billingsley was just about cruising tonight in Arizona: five innings, 81 pitches, two hits, three walks, seven strikeouts. In the sixth, with the Dodgers leading 4-1, he allowed a walk and a double to put runners on second and third with one out. Chris Young, who accounted for the Diamondbacks' only run with a second-inning solo homer, was up. And Torre went straight to the bullpen.
This isn't the worst decision Torre is going to make in 2010, but it was one of the least inspiring. Billingsley, who now has a 3.47 ERA in his past four starts with 19 strikeouts in 23 1/3 innings, had earned the right to try to get out of the jam with only 90 pitches under his belt.
The scenario was not unlike what Billingsley faced September 23 at Washington, during the Dodgers' pennant drive. Billingsley had a no-hitter for 5 2/3 innings and a three-run lead with only 84 pitches thrown, then allowed a game-tying home run to Ryan Zimmerman. So yeah, it wasn't like bad things couldn't have happened tonight, things that would have haunted our conversations for days. But if you expect this guy to be a mainstay of your staff, you'd think you'd be a little less fearful of what could go wrong and instead more hopeful about what could go right – especially when he's been pitching well.
In any case, if people want to get up in arms about Billingsley and the seventh inning, they'd better at least throw an angry glance in Torre's direction.
But I will offer this as a counterpoint. If Torre made the decision to pull Billingsley in order to protect his arm for the long haul – similar to his choice to give Billingsley and other Dodger starters an extra day of rest this week by starting Ramon Ortiz on Friday – I might be able to get behind it. Torre was almost relentless in his use of Billingsley in the first half of last season, when the righthander threw at least 105 pitches in 12 consecutive games and 17 out of 19, racking up the most pitches thrown in all of baseball for the first half of '09. It's been my theory that Billingsley, who was only 24 at the time with one full season as a starting pitcher in the majors under his belt, simply wore down by the second half (and then had his leg injuries complicate matters). I can't prove it, but it's more plausible than other theories I've heard.
I think it's possible that Torre, while also perhaps being a bit nervous regarding Billingsley and his reputation for suddenly allowing big innings, might also be thinking that Billingsley needs to be paced, and is actively looking for ways to limit his use in the early going. And if that's the case, despite my being upset at Billingsley being pulled from tonight's game, I'm all for it.  And I'm confident that if Billingsley keeps giving Torre good innings, we won't be talking about this subject much longer.
For what it's worth, Ramon Troncoso, who is the focus of a lot of burnout fears, has had his workload eased a bit this month. He had one outing of 27 pitches between last Wednesday and tonight's 13-pitch ninth inning. In four appearances (none in consecutive games) over the first 10 days of May, Troncoso has thrown 71 pitches.