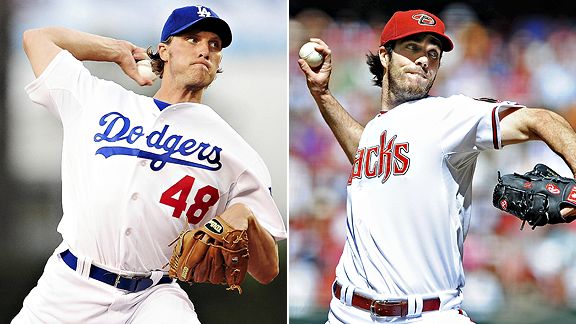 US Presswire
John Ely tonight faces Dan Haren, an All-Star selection the past three seasons.
I'm going to say the odds are stacked against John Ely coming close to his success last week against Milwaukee. First of all, any rookie pitcher would have a tough time pitching shutout ball into the seventh inning of back-to-back games. Then, you add in the uncertainty of the past four days, when instead of having a normal routine, Ely was triangulating (at least mentally) between Los Angeles, Albuquerque and Phoenix.
Further, the Diamondbacks will have the benefit of having seen video of Ely's dominance of the Brewers and can prepare accordingly. Ely will have to be able to adjust in front of a visiting crowd.  It's going to be a challenge.
Pitching for Arizona will be Dan Haren, their undisputed top pitcher at least while Brandon Webb remains injured. However, the Dodgers haven't found him unbeatable — though he has been tougher lately. Since coming to the National League in 2008, here's how Haren has done against the Dodgers (ERA is Haren's season ERA entering each start):
| Date | Place | ERA* | IP | H | R | ER | BB | SO | Team result |
| --- | --- | --- | --- | --- | --- | --- | --- | --- | --- |
| 4/7/08 | Arizona | 4.50 | 6.00 | 6 | 3 | 1 | 0 | 5 | W, 9-3 |
| 4/23/08 | L.A. | 1.80 | 4.67 | 9 | 6 | 5 | 2 | 5 | L, 3-8 |
| 7/19/08 | Arizona | 2.72 | 7.00 | 4 | 0 | 0 | 2 | 7 | W, 3-2 |
| 8/30/08 | Arizona | 3.10 | 6.00 | 10 | 5 | 5 | 0 | 5 | L, 7-14 |
| 9/5/08 | L.A. | 3.41 | 4.00 | 6 | 5 | 5 | 4 | 2 | L, 0-7 |
| 4/12/09 | Arizona | 1.29 | 6.00 | 4 | 2 | 2 | 3 | 2 | L, 1-3 |
| 6/2/09 | L.A. | 2.54 | 7.00 | 2 | 1 | 1 | 1 | 7 | L, 5-6 |
| 8/14/09 | Arizona | 2.57 | 8.00 | 6 | 1 | 1 | 2 | 8 | W, 4-1 |
| 9/9/09 | Arizona | 2.78 | 7.33 | 7 | 3 | 3 | 1 | 9 | W, 4-3 |
| 4/15/10 | L.A. | 3.95 | 6.33 | 6 | 2 | 2 | 2 | 7 | L, 6-5 |
| | | Average | 6.23 | 6.0 | 2.8 | 2.5 | 1.7 | 5.7 | |
*ERA entering the start
* * *
Hall of Fame baseball writer Ross Newhan and his son, former major-leaguer David Newhan, have teamed up on a blog, Newhan on Baseball. In the most recent post, David goes after Ken Griffey, Jr. about the hotly debated sleeping incident. Earlier, Dad and lad disagree on Arizona's illegal immigrant law. (Remember, no political debates at Dodger Thoughts, but the Newhans seem to welcome them.)