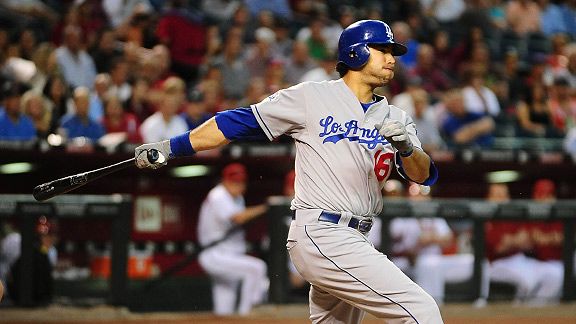 Mark J. Rebilas/US PresswireAndre Ethier:
.385/.444/.738. On pace for 55 homers, 185 RBI.
Andre Ethier isn't carrying the Dodgers by himself. There's Hiroki Kuroda on the mound, and Manny Ramirez when he's healthy. After that on today's edition of Dodger Cogs and Dogs, you go from supreme to solid … to not without their moments … to a fairly long list of names that mostly seem to be occupying space. All in all, that's how you get to .500.
Remember – this list is designed to measure overall season value, but with some subjectivity on my part mixed in with the stats to make it interesting. Have at it …
| 5/13 . | 5/03 . | 4/19 . | 4/12 . | Player | Comment |
| --- | --- | --- | --- | --- | --- |
| 1 | 1 | 2 | 11 | Andre Ethier | The wild and the innocent no match for the Ethier Street Shuffle. |
| 2 | 2 | 3 | 1 | Hiroki Kuroda | Seven starts this year, six of them rather grand. |
| 3 | 4 | 4 | 9 | Manny Ramirez | .500 on-base percentage since coming off DL. |
| 4 | 3 | 1 | 5 | Matt Kemp | Homerless in past 20 games, but season numbers remain strong. |
| 5 | 6 | 10 | 20 | Clayton Kershaw | 2.41 ERA in '10 if the fates would remove the Milwaukee game. |
| 6 | 8 | 9 | 24 | James Loney | Snaps 0-for-13 slump by going 7 for 14 in Arizona. |
| 7 | 10 | 5 | 2 | Russell Martin | 6 for 21 with two walks and two homers in past five games as leadoff hitter. |
| 8 | 26 | NR | NR | John Ely | No joke: He has meant this much. |
| 9 | 7 | 8 | 4 | Rafael Furcal | Technically in 4-for-22 skid when he comes off disabled list. |
| 10 | 5 | 6 | 13 | Jonathan Broxton | Opponents have .444 (12 for 27) batting average on balls in play. |
| 11 | 12 | 12 | 10 | Chad Billingsley | On the precipice of … something. |
| 12 | 15 | 14 | 14 | Blake DeWitt | Homerless in 2008 until May 4, then hit four in his next nine games. |
| 13 | 14 | 13 | 7 | Ronnie Belliard | Has only home run among Dodger middle infielders in 2010. |
| 14 | 16 | 18 | 21 | Carlos Monasterios | Mini-Ely: Five walks in 20 2/3 innings so far. |
| 15 | 9 | 11 | 12 | Ramon Troncoso | Last year: five of 32 inherited runners scored. This year: eight of 17. |
| 16 | 11 | 7 | 6 | Casey Blake | Golden sombrero (and sixth error) Wednesday leaves him with .512 OPS since two-homer game 4/24. |
| 17 | 18 | 21 | 18 | Jamey Carroll | .697 OPS as Dodgers went 8-6 with Furcal on DL. |
| 18 | NR | NR | NR | Hong-Chih Kuo | Pitches so infrequently (5 1/3 innings in '10) that no one noticed I forgot about him. |
| 19 | 19 | NR | NR | Xavier Paul | Earned the right to stay with the big club. |
| 20 | 17 | 20 | 8 | Reed Johnson | Lowered the bar for Ramirez's return by going 2 for 15 this month. |
| 21 | 23 | 24 | 17 | Ramon Ortiz | Entering Friday's game, hard to argue that Weaver or Padilla has been more valuable. |
| 22 | 21 | 17 | 15 | Jeff Weaver | Two strikeouts Tuesday were a good but small sign. |
| 23 | 20 | 15 | 25 | Vicente Padilla | There's an opening for a No. 5 starter in June … |
| 24 | NR | NR | NR | Ronald Belisario | Has looked great at times, but 6.52 ERA more than hints at inconsistency. |
| 25 | 22 | 19 | 19 | A.J. Ellis | Has one at-bat since last start 16 days ago. |
| 26 | 24 | 23 | 23 | Brad Ausmus | Has caught two innings fewer than Ellis this month. |
| 27 | NR | NR | NR | Nick Green | Dodgers might actually have to DFA him Friday unless Haeger's foot disease is catching. |
| 28 | 27 | 26 | 26 | George Sherrill | In addition to 7.94 ERA, 10 of 15 inherited runners have scored. |
| 29 | 28 | 25 | NR | Jon Link | Albuquerque ERA (not factored into Cog/Dog ranking) now at 10.45 – yes, that decimal point is placed correctly. |
| 30 | 29 | 27 | 22 | Russ Ortiz | I'm betting that Sherrill stays above Ortiz, but it's getting dicey. |
| 31 | 25 | 16 | 3 | Charlie Haeger | They say knuckleballers can work constantly, but did he overdo it? |
| 32 | 30 | 22 | 16 | Garret Anderson | Currently tied for third place, lowest single-season OPS+ in L.A. Dodger history (minimum 50 PA). |