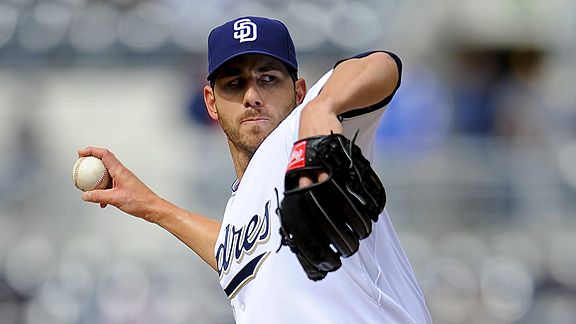 Andy Hayt/Getty Images
Jon Garland and the Padres are out to prove they're the real deal.
And moving now to the Nobody Knows Anything portion of the show, let us turn to the San Diego Padres.
A popular pick to finish last in everything in 2010 but trade deadline rumors, San Diego is a National League-best 22-12, with a 3 1/2-game lead over San Francisco and five games ahead than the Dodgers. And that's even with their best-known player (their only known player?), Adrian Gonzalez, having what's for him a subpar season. Gonzalez's .836 OPS this season (.319 EQA per Baseball Prospectus) barely puts him ahead of his Los Angeles counterpart James Loney's .826 (.306).
But Gonzalez is so far a footnote to the Padres' Cinderfella story, which has been written by their incredible pitching.  Petco Park provides a boost to almost any hurler, but that doesn't entirely account for a San Diego team ERA that currently sits at 2.67. The home ERA is 2.13, but the road ERA is still a pretty nifty 3.16. And all this in the Padres' first full season without Jake Peavy in years.
Jon Garland, who has gotten the most attention in these parts because of his erstwhile Dodger status, brings a 1.71 ERA to tonight's start against the Dodgers despite having nearly as many walks (21) as strikeouts (25) in 42 innings over seven starts.  Garland exemplifies the uncertainty that surrounds the Padres – can he stay this good? Signs, including a seemingly luck-filled batting average allowed on balls in play of .225, point to no. On the other hand, early indications (underscore "early") are that the Padres have one of the best team defenses in baseball, according to Fangraphs. So if that holds up, that could help sustain pitchers like Garland.
Meanwhile, the Padre pitching success hardly stops with Garland; there's also 29-year-old Kevin Correia (3.97), 26-year-old Clayton Richard (3.21), 25-year-old Wade LeBlanc (1.61!) and 22-year-old Mat Latos (3.32). Latos came within an infield single of a perfect game Thursday as San Diego completed its road sweep of San Francisco – and in his past two starts, Latos has faced 54 batters and retired 51, giving up three singles and walking none. According to Stat of the Day, he is just the fifth pitcher since 1952 to have consecutive starts of no more than two hits allowed with no walks.
Thursday's 1-0 victory was the Padres' eighth shutout of the year. In their past 13 games, San Diego has held its opponent below three runs 10 times. As for the bullpen, opponents have a .580 OPS against it in 434 plate appearances. With few exceptions, the Padre offense certainly hasn't been anything impressive (again, even accounting for park effects). So far, that hasn't mattered.
In a sense, the Padres are like one big bowl of John Ely – dazzling at the outset but still leaving open questions about whether they can sustain it for the long haul. Most feel the Padres are a fluke, but for now it's been left up to the Dodgers to begin to prove that. The high-powered Dodger offense and suspect pitching (at least in tonight's starting relief pitcher, Ramon Ortiz), playing in a park that hasn't always been kind to Los Angeles even in the best of years, have much more of a challenge this weekend than anyone would have thought a month ago.
* * *