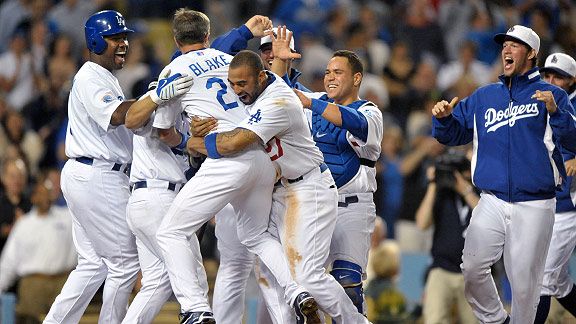 Kirby Lee/US Presswire
Casey Blake is embraced by Matt Kemp at the end of Monday's game. Clayton Kershaw's white cap makes me feel that he has come in to celebrate from another era.
Hear James Loney talk about the "dumbest play I've ever done." And then hear Charley Steiner with Loney's redemption.
This was a bitter loss (among many) for Arizona. What's your choice for 2010's most bitter Dodger loss?
Elsewhere …
Earl Pomerantz writes about pressure. As usual, it's a great read.
What song has the lyrics, "Trees fade out in the black of the night/Sometimes it don't hardly seem worth the fight/But at least tonight I get to hear the golden voice of Vin Scully." Tom Hoffarth of the Daily News has the answer.
The Dodgers' ThinkCure! auction is about to launch. In the meantime, Darin Erstad's upcoming charity auction, including an Erstad Gold Glove, will send 100 percent of the final sale price to support the Child Abuse Prevention Center in Orange.