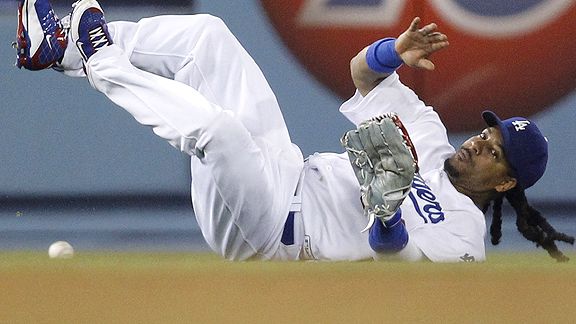 Danny Moloshok/AP
Manny Ramirez's failure to come up with this sinking drive by Atlanta pitcher Kris Medlen in the sixth inning allowed what proved to be the winning run to score.
Well, the Dodger offense indeed was slumping. Shut out for the first seven innings tonight by Atlanta's Kris Medlen, the Dodgers had only two runs to show for their past 31 innings.
Still, they almost extended their winning streak. Almost.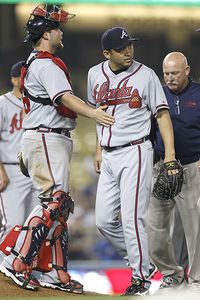 Danny Moloshok/AP
Takashi Saito's Dodger Stadium homecoming was nearly perfect, until his leg gave way.
Down 4-0 and held to three runners in the first seven innings by 24-year-old Atlanta righty Kris Medlen, the Dodgers picked and poked their way back into it in the bottom of the eighth, scoring three runs on singles by James Loney, Blake DeWitt, Jamey Carroll and Ronnie Belliard, a throwing error by the Braves (which DeWitt barely converted into a run with a devilish hand-touch of home), and an RBI groundout by Rafael Furcal. But after Matt Kemp walked, mojo-free Andre Ethier struck out on a 2-2 fastball.
And then control of the game turned to our truly old friend, 40-year-old Takashi Saito, pitching against the Dodgers for the first time in his career. In the ninth, Saito retired Manny Ramirez and Loney, then got to 0-2 on Martin … when he had to leave the game with an apparent left hamstring injury. After a delay of several minutes, Jonny Venters came in and threw one pitch to strike out Martin and walk away with Saito's save of a 4-3 Atlanta victory.
It was a disappointing night for Los Angeles, but not quite the bad taste that a shutout would have left. And the Lakers' NBA Finals Game 1 victory will certainly provide some cover and consolation.
Hiroki Kuroda is also slumping now, by the way. His performance tonight wasn't terrible – three earned runs in six innings – but the seven hits and four walks against two strikeouts hint at how sloppy it was. In his past two starts (the previous one an even more uncomfortable outing in Colorado), Kuroda has allowed 11 runs (eight earned) on 23 baserunners in 10 innings with three strikeouts. Yikes.
But this all, I believe, will pass. Perhaps around the time that the Dodger bullpen, which hasn't allowed an earned run in its past 20 innings (according to the Dodger press notes), cracks.
* * *
Jeff Weaver entered the game in the top of the seventh, only to depart with trainer Stan Conte without throwing an official pitch. No details immediately available.
Casey Blake is day-to-day with back spasms, reports Tony Jackson of ESPNLosAngeles.com.
Spurred to investigate the situation by questioners during his online chat today, Jackson found that minor-league pitcher Josh Lindblom is being converted back to relief. "When he gets back, we're probably going to transition him back to the bullpen," assistant general manager for player development DeJon Watson told Jackson. "I think he is better suited to the bullpen. It's just his delivery and his stuff, and I think this will give him a chance to help our big league club at some point this year. We just want to get him back to where he was at the end of last year."
Pitching rehab outings for Inland Empire tonight, Vicente Padilla threw 37 pitches, allowing one hit and striking out five in three innings, while George Sherrill struck out two in an eight-pitch inning of relief.
Vin Scully will make a rare trip East in two weeks, broadcasting the Dodgers' game at Fenway Park for Prime Ticket on June 18, according to Ken Gurnick of MLB.com. Lucky us.