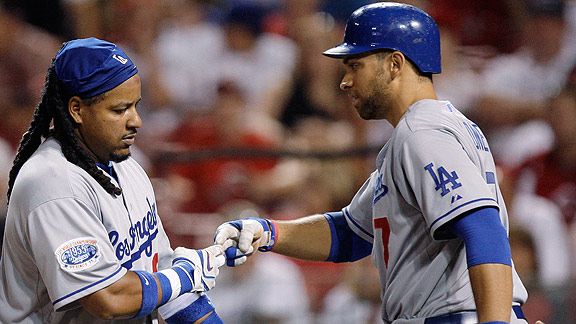 Al Behrman/AP
Dude – nice work.
Clayton Kershaw didn't walk anyone in the first inning. Or the second, the third, the fourth or the fifth.
In the bottom of the sixth, the first moment he pitched when the game wasn't close, he walked the leadoff batter.
Pitching is such a mystery, isn't it? And so is baseball, for that matter.
For a game the Dodgers just about ran away with and eventually won, 6-2, there were more than a few tense moments. The Dodgers would get up, but never too far up. They'd be in peril, then escape like Bugs Bunny.
They'd break a 0-0 tie with two runs in the fifth inning on yet another James Loney double, but strand runners on second and third with one out. They'd give up a fourth-inning single with a runner on second, only for Manny Ramirez to throw the guy out at home. They'd enter that bottom of the sixth with a 5-0 lead, but would escape the none-out, bases-loaded inning only thanks to a controversial, two-ejection strikeout.
The bottom of the eighth might have been most vexing of all. With a 5-1 lead, Joe Torre had Clayton Kershaw bat for himself in the top of the inning despite being past the 100-pitch mark, then removed him from the game following a one-out error by Blake DeWitt. Two relievers and two baserunners later (including a Hong-Chih Kuo walk to load the bases), the Dodgers used a line-drive double play, Rafael Furcal unassisted, to amscray.
In the ninth, with the Dodgers up 6-1, Kuo gave up his first run since April 22 on the first homer he allowed since Game 5 of the 2009 National League Championship Series, before getting the final out on a lunging catch by Matt Kemp, but that was a pocket full of posies compared to what had preceded. And so on a night that Andre Ethier singled twice and hit a three-run homer, that Loney had two more hits to raise his OPS to .810, that Manny Ramirez homered for the third time in seven games, that Kershaw lowered his ERA to 2.96 with 7 1/3 innings of seven-hit, seven-strikeout, one-run and yes, one-mystery-walk pitching, the Dodgers ran away with the victory … and hid. So close to disappointment, instead it's two straight victories over the NL Central leaders and, once again, the best record in the National League. They'll take it.
* * *
Happiness is a married bullpen catcher: A love story involving former Dodger Jason Phillips, culminating in a bullpen wedding ceremony, told by Jerry Brewer of the Seattle Times (via Baseball Think Factory).