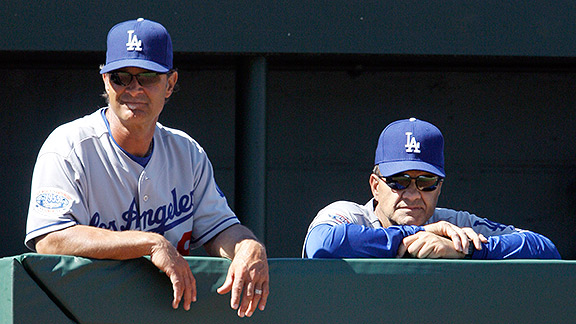 Jeff Chiu/AP
Don Mattingly and Joe Torre
Joe Torre's primary skill set is at most one thing: He nurtures the clubhouse.
I don't know of anyone, even his stanuchest supporters, who touts Torre as a brilliant tactical manager. He has had moments of strategic inspiration, but they seem more than undermined by his justifiably maligned use of his pitching staff and other odd lineup and bench moves. Some of the criticism of Torre is overblown, but there's a layer of truth to it that dates back to his Yankee days.
When Torre finally lost his temper on Wednesday after the Dodgers' ninth-inning baserunner follies and criticized some of the players for their decision-making, I understood, but I also felt it was the pot calling out the kettle. So much of Torre's job is decision-making, and so often it goes wrong. Sometimes he makes a good choice that goes bad, but other times his choices are simply indefensible. How many times has Torre not seemed mentally prepared for the game at hand? Does a collapse like Sunday's not lay in large part at Torre's feet, most notably in his overuse of Jonathan Broxton? It's not as simple as "his players didn't do their jobs."
And I say all this with no particular axe to grind. This is not a "Fire Joe Torre" post. I generally like Torre as a person. I don't happen to think that Torre is much worse at game strategy than your garden-variety manager. But let's face it: With Torre, you're betting that the force of his even-keeled personality outweighs his flaws. He 's a bright man, but you're not thinking he's going to take you to the top because he's a grandmaster chess player.
Torre's contract ends after this season. This past weekend, he told reporters that he would decide in September whether he wants to come back for more with the Dodgers, although even then, there's a question of how much the McCourt ownership will want to pay him for the privilege — or whether anyone up top will even be able to focus on the question. The McCourt divorce trial is currently scheduled to begin August 30. What kind of negotiations are there going to be with Torre during that time? If the Dodgers are in fourth place, will there be any negotiations at all? Or is it all in general manager Ned Colletti's hands?
It's possible that the Dodgers will take decide that, with all their other concerns heading into 2011, they'd like stability in the managerial chair and will quickly give Torre what he wants to stay. If the Dodgers bounce back to the top of the division, I'd almost be willing to bet on it.
The only other possibility on the horizon is that Don Mattingly will be the Dodger manager next season. It has been spelled out in no uncertain terms that Mattingly is the heir apparent, and if the Dodgers fall out of the race, Mattingly could be named the 2011 Dodger manager before the 2010 season ends.
This, my friends, gives me the willies.
Mattingly is Joe Torre without Joe Torre's personality or experience. Mattingly has never managed a regular season baseball game and has never coached for anyone except Torre. Obviously, Mattingly's baseball knowledge is not limited to his time by Torre's side, but surely his tactics are going to be heavily influenced by Torre. And that, while not being the worst thing in the world, is not anything to be excited about.
Then you have to ask yourself, is Mattingly the type of person who can nurture a clubhouse, who can make a team better when the game isn't going on?
I don't know Mattingly at all, so I'm not qualified to answer that question. But my concern is that Mattingly is being handed this job not because of any actual qualifications, but because he's perceived (hoped) to be Torre II. He'll continue Torre's winning ways just by having soaked up his innate Torreness.
If it were that simple, I don't think Laker fans would be concerned about Phil Jackson leaving.
As a counter-example, Tim Wallach has both coached on the major-league level and managed on the minor-league level for the Dodgers. He was named Pacific Coast League Manager of the Year in 2009. This season, he has been doing a barefoot walk across the coals, because the Dodgers' pitching problems have absolutely burned their top affiliate in Albuquerque. In this season alone, Wallach has had to use 17 starting pitchers this season in 74 games. He has very little in the way of top-rated AAA prospects right now. He has had to work without the safety net of a Joe Torre and then some.
This resume doesn't prove that Wallach will be a successful major-league manager. But I can't see how it isn't a better resume than Mattingly's, whose entire managerial C.V. consists of, "He's Don Mattingly, Yankee legend and student of Joe Torre."
As the Dodgers prepare to bid farewell to Torre, this year, next year or whenever, they have some responsibilities, some explicit, some implicit. For one thing, Major League Baseball requires the Dodgers to interview at least one minority candidate for the position. Whether you believe in this rule or not, I'd argue that the Dodgers should not make this interview a token activity, but rather at least one of a number of serious interviews, a wider exploration into whether anyone is better than Mattingly for the job. Clearly, Mattingly has impressed people in the organization, but has he done so in ways that really matter? If they pause and step back, are there not potential managers out there who would be more compelling?
By writing this piece, I risk giving this decision more importance than it deserves. The talent on the field is still more important than the talent in the dugout, and a hire of Mattingly isn't going to ruin the Dodgers. Mattingly is not Torre, and given what happened Sunday, some might say that's a good thing. But the Dodgers should ask themselves whether a Mattingly hire would bring continuity in all the wrong places.