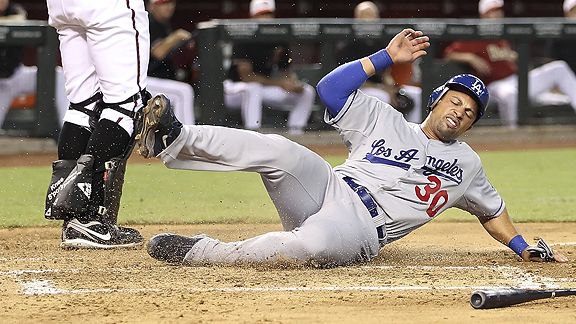 Christian Petersen/Getty ImagesXavier Paul slides home in the fifth inning Saturday.
This is not a news flash. But when Manny Ramirez returns from the disabled list, the Dodgers should bid farewell to Garret Anderson.
It's not just that in 133 plate appearances, Anderson has an on-base percentage of .205 and slugging percentage of .291. It's not just his negative value defensively, on a team that could use defense from its backup outfielder.
It's that even being optimistic about Anderson, what he's capable of is not what Xavier Paul is capable of. Or, for that matter, Paul's recent Albuquerque teammate Jay Gibbons.
Anderson has walked three times all season. Three times. So even if he gets luckier with some balls in play dropping in, there's little hope for a dramatic rise in his poor OBP. And his slugging percentage has maxed out at about .400 since 2009. That's not enough value for a guy who can't field.
No doubt Joe Torre is expecting all this non-production will be worth it when Anderson has a key RBI single in the postseason. The problem with that theory is that 1) Anderson might, in his own small way, keep the Dodgers from reaching the postseason, and 2) it's a canard that you need a veteran to come through off the bench in the playoffs.
As I pointed out before the season, older is not necessarily better for bench players. By far, the majority of over-35 bench players for the Dodgers have hit poorly. And Anderson has hit worse than almost all of them.
Mark Loretta's hit in Game 2 of last year's National League Division Series was memorable, but that didn't mean Loretta was a good player for the Dodgers to have. If the Dodgers can do better, they should. And Paul is an example of better. Paul already has more walks than Anderson and nearly as many hits and extra-base hits despite playing half the time, plus better speed and defense. And he, unlike Anderson, has real potential to improve.
If it's leadership you want from Anderson, make him a coach, or make use of the countless other former major-leaguers that are already on staff with the Dodgers.
The common argument against keeping Paul is that, as a potential 2011 starter for the Dodgers, he should be playing regularly this year. But Paul really has spent enough time playing at AAA, racking up more than 800 plate appearances there since 2008 and showing improvement each of the past three seasons. His injuries put up a roadblock last season, but he has recovered impressively. His OPS is over 1.000 with the Isotopes, outstanding even by their standards.
As far as his future development goes, I'm struggling to see how copying Blake DeWitt's frequent-flyer service between Albuquerque and Los Angeles from last year is a better use of Paul's time than letting him steadily grow comfortable in a major-league clubhouse, learning about the game's top pitchers and becoming tested in key situations.
It's not as if Paul will never play. Given the rest the Dodgers want to give Ramirez even when he's healthy, Paul could easily amass another 150 plate appearances if he stays with the big club through the end of the season. That would give him more than 400 for the season. That's plenty for a player who has mastered AAA pitching.
Put it this way: If there's going to be a Dodger backup outfielder with a .500 OPS, I'd rather it be someone having a learning experience. Better that than the slow, painful fadeout of a once-great player.
* * *
The Dodgers said today that they expect to activate Carlos Monasterios from the disabled list in the middle of this week. Monasterios is done pitching rehab outings for Albuquerque.
The Isotopes released Jesus Colome from their roster, according to the team press notes. The former major-leaguer had a scoreless inning, then gave up five runs to his next six batters.
* * *
For the second time this season, a team has designated Dontrelle Willis for assignment shortly after he got hit hard by the Dodgers. Los Angeles scored seven runs off him in 6 1/3 innings while he pitched for Detroit and Arizona.
* * *