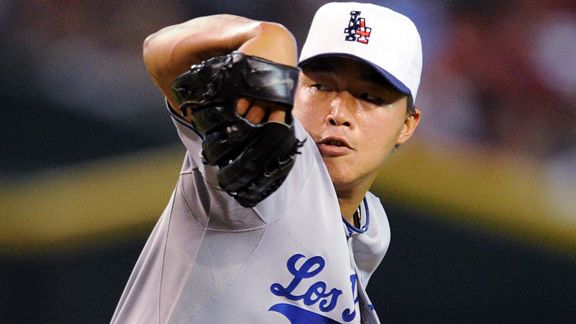 Rick Scuteri/APLeft-handed batters are now 0 for 30 with 16 strikeouts against Hong-Chih Kuo this season.
Hong-Chih Kuo is an equal-opportunity heart-attack giver – to his fans and his opponents.
Joe Torre let Kuo throw two innings today, his most since September 1, 2008, and 32 pitches, his most since July 21 of that year. And as his pitch count rose, I felt a tingling in my left arm as I thought of Kuo's fragile elbow.
But what an elbow. Kuo struck out six batters in those two innings, making a statement to those who didn't support him for this year's All-Star team and serving as the linchpin on the mound for the Dodgers in their 3-1 victory today over Arizona.
Kuo's mastery was part of a closeout by the Dodger pitchers today, which struck out eight of the final 10 batters they faced.
Starting pitcher Chad Billingsley did what the Dodgers have asked him to do. He threw strikes and toughened up with runners on base. Billingsley allowed one run over six innings, striking out eight, and had only 35 balls called among the 26 batters he faced. His pitch count ran up to 111 in six innings because Arizona did walk twice and rap six hits off him, including a booming RBI triple by Mark Reynolds that gave the Diamondbacks a 1-0 lead in the fourth inning. But Billingsley struck out the next three batters and slammed the door on Arizona thereafter.
That meant the Dodgers were able to tie things up on Rafael Furcal's double and Andre Ethier's single in the sixth inning, and then take the lead on Matt Kemp's two-run homer with Furcal aboard in the eighth. Kemp has an OPS of over 1.000 and four home runs in his past 12 games.
Jonathan Broxton got the Dodgers' 15th and 16th strikeouts in his perfect ninth inning, his first save opportunity since June 9.