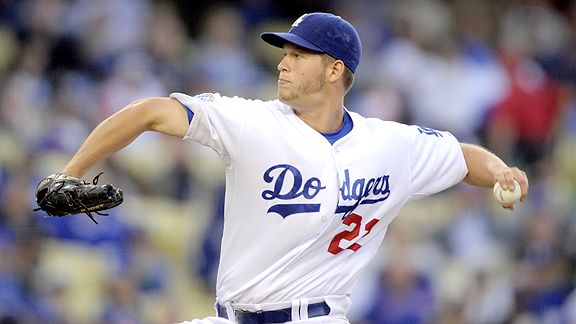 Mark J. Terrill/APClayton Kershaw has walked eight batters in his past 41 2/3 innings, two in his past 20 2/3.
Boo hoo! Dodger pitchers never pitch complete games!  Waaah!  Why can't they ever go the distance?  When is Clayton Kershaw going to step up and be an ace!  Waaaaaaaaah!
Okay, now that I've gotten that out of my system …
Magnificent.
That's the word to describe Clayton Kershaw tonight. Eight innings, two runs, 12 strikeouts, 97 pitches, no walks …
And then, Dodger manager Joe Torre, who has had no trouble letting the precious 22-year-old phenom throw over 100 pitches in fewer innings, decided to pull Kershaw before potentially recording his first complete game in the majors. And it wasn't necessarily the wrong decision – Jonathan Broxton is warming up no matter what, and no doubt fresher at this point of the game – but wow …
Anyway, Broxton came in, retired the first two batters in the ninth, got two strikes on the third before allowing a single, then made sure none of us would spontaneously combust by inducing a harmless fly out from Kosuke Fukudome to complete the Dodgers' 3-2 victory over Chicago.
Remember this post, after Kershaw was charged with seven runs in 1 1/3 innings against Milwaukee?
The last time Clayton Kershaw started but failed to get past the third inning – June 10, 2009 – this is what happened the rest of the season: 107 innings, 122 baserunners, 123 strikeouts, 1.77 ERA.
Well, this is what Kershaw has done since failing to get past the second inning on May 4, 2010: 81 2/3 innings, 85 baserunners, 92 strikeouts, 2.20 ERA.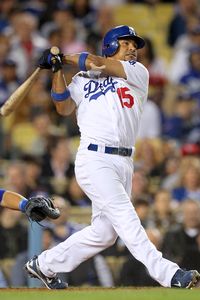 Stephen Dunn/Getty Images
Rafael Furcal puts the Dodgers in the lead.
Magnificent.
And yet this could have been an incredibly frustrating 2-1 loss for the Dodgers, were it not for the heroics of Rafael Furcal. Two innings after Matt Kemp just missed hitting a three-run home run, Russell Martin led off the bottom of the seventh with a single. One out later, Kershaw sacrificed him to second base, and then Furcal curled a game-changing home run just inside the right-field foul pole. Furcal ended the night a triple shy of hitting for the cycle.
Kershaw, who now has a lower WHIP (walks and hits per inning pitched) and higher K/9 than Tim Lincecum wasn't perfect. He forfeited the Dodgers' 1-0 first-inning lead, allowing a long home run to Alfonso Soriano in the second and a pair of hits for a run in the fourth.
He wasn't perfect. He was just … you know.