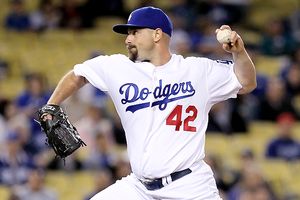 Jeff Gross/Getty Images
This guy allowed two runs with the Dodgers last year.
It hasn't been confirmed on the record, but it is being widely reported (first by Ed Price of AOL Fanhouse, then by Tony Jackson of ESPNLosAngeles.com among others) that the Dodgers have place George Sherrill on outright (i.e., irrevocable) waivers.
That could mean that Sherrill (and his remaining 2010 salary) will either be claimed by another team, Sherrill will accept an assignment from the Dodgers to the minor leagues or Sherrill will elect to become a free agent. He has not necessarily thrown his last pitch for the team. We'll know the answer within three days of the start of his placement on waivers. Jackson's story has more details.
* * *