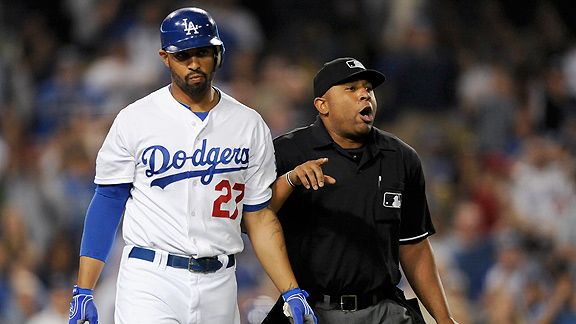 Gus Ruelas/APUmpire Adrian Johnson walks alongside Matt Kemp after the Dodger outfielder was hit by a Tim Lincecum pitch in the fifth inning.
Where to begin?
Tim Lincecum getting hammered, allowing three runs in the first inning and two more in the third? Giving up a homer to Andre Ethier and 11 baserunners in 4 1/3 innings while striking out two?
Xavier Paul getting two runs, two doubles, a single and an RBI – and still nearly costing the Dodgers the game with a dropped fly ball?
Clayton Kershaw cruising, retiring 11 in a row at one point, in his first career matchup with Lincecum?
No, we can't start there.
In the most memorable game of a season the Dodgers are desperately hoping won't be forgettable, Lincecum-Kershaw I devolved into a B-grade beanball war and D-grade display of intelligence, one that showed the Dodgers' fighting spirit but also highlighted their shortsightedness – and even stupidity.
If you thought the collapse against the Yankees was a nightmare, if Sunday's meltdown at St. Louis brought you to your knees, those games have nothing on tonight's 7-5 loss.
The unraveling took root in the fifth inning, with the Dodgers leading 5-1, when Lincecum, who had hit one batter with a pitch this year, threw consecutive knockdown pitches at Dodgers outfielder Matt Kemp, the second one hitting him. Kemp was angry, but there was no incident. Nevertheless, home plate umpire Adrian Johnson issued a warning to both benches that no other beanball shenanigans would be tolerated. This infuriated Dodger coach Bob Schaefer (the Dodger coach that Kemp reportedly clashed with last month), who had lots of words with Johnson.
Lincecum left the game one batter later. In top of the sixth, Kershaw gave up three hits and three runs, two of them unearned because Paul dropped a long fly ball by San Francisco's Pat Burrell (one, admittedly, that looked at first like it might leave the park). In the bottom of the inning, Giants reliever Denny Bautista knocked Russell Martin down with a pitch, and Schaefer went ballistic, drawing an ejection from Johnson.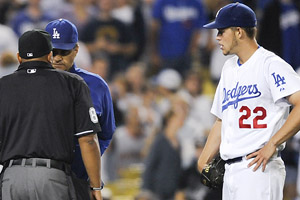 Gus Ruelas/AP
Joe Torre and Adrian Johnson go through the motions and emotions after Clayton Kershaw's ejection.
Kershaw was the next batter, which was a bit surprising considering his rough top of the sixth and the fact that he had thrown 103 pitches. What was really bizarre, however, was that the fragile Hong-Chih Kuo was warming up in the bullpen while Kershaw was batting.
Soon, we found out why.
Kershaw came out in the top of the seventh and with his first pitch, drilled Aaron Rowand of the Giants. Johnson immediately ejected Kershaw, who might also draw a suspension. And while some might have thought it improbable that the Dodgers would intentionally put the tying run on base in a game they so wanted to win, it seems clear that they did.
Further explaining what happened, a Twitter user pointed out that pinch-hitter Garret Anderson was the on-deck hitter when Martin was knocked down. After Schaefer was ejected, Anderson sat down, and Kershaw remained in the game to do his dirty work.
Kershaw scored points with everyone who thinks that pride depends on revenge, who thinks that all of the Dodgers' problems stem from Chad Billingsley not knocking down a Phillie two years ago, but in the meantime, the action risked putting the Dodgers in the very humbling position of losing a game that was very much worth winning. Rowand made it all the way to third base with two outs, before Kuo got Freddie Sanchez on a broken-bat liner to end the inning.
So the extra baserunner didn't cost the Dodgers the game. But ultimately, we were still reminded that pride doesn't mean victories.
Jonathan Broxton, forced into the game after Kuo threw two innings, allowed a 60-foot infield single to start the ninth, then issued an ill-advised walk to Edgar Renteria. Rowand sacrificed, and the Dodgers decided to have Broxton walk Aubrey Huff intentionally to load the bases with one out.
And then – and this is saying something – the most bizarre thing happened.
Joe Torre's heir apparent, Don Mattingly, helming the Dodgers because Torre was automatically ejected once his pitcher hit a batter after the benches were warned, visited the mound to have a conference with Broxton and the infield. He finished, walked off the mound, and then James Loney called out a question to him. Mattingly turned and took three steps back toward Loney – a step that put both Mattingly's feet onto the mound. Giants manager Bruce Bochy immediately came out to contend that this constituted two trips to the mound, and successfully got Broxton removed from the game.
And thus, we had trying to save the game, with almost no warmup, one George Friderich Sherrill.
Irony was not in supply. Sherrill did not defy expectations. His second pitch was hit for a two-run double, giving San Francisco its first lead of the game. Travis Schlichting came in, and one out later, allowed a single for another run.
Forced to rally for the first time tonight, the Dodgers came out in the bottom of the ninth against Giants reliever Jeremy Affeldt, who no doubt entered the game with one eye on Ethier in the dugout, due up fourth in the inning. Jamey Carroll was thrown out by a hair at first base. The ever-lovin' Rafael Furcal then lined one to left field, sliding into second base with a close double. Ronnie Belliard, pinch-hitting for Paul against the lefty, struck out feebly.
And for the second night in a row with the game on the line, Affeldt got Ethier, this time ending the contest with a strikeout.
And so yes, the Dodgers can pat themselves on the back, knowing that they were man enough to fight back against the Giants. But when they're done with that, their next move will be to scratch their heads, wondering why that manliness feels so hollow.
It's because it's not about who's mas macho. It's about who has scored the most runs at the end of the day. Anyone who planned to point to this tough-guy act and say this was the key to the Dodgers' season was just dreaming.
Update: Some postgame quotes from Torre …
"(Mattingly) didn't really know where he was. He thought he was still on the mound when James called him back.
"They didn't look upon (the brushback of Martin) as on purpose. It's a very gray area that seems to have some flaws in it, and I don't know how you fix it.
"I think it's more just (Broxton) is out of sync right now, more so than anything physical to worry about. He's pretty honest with Honeycutt as far as when he feels good.
"We've had some strange things happen. This is a test, and you have to bounce back and reestablish what kind of club you are."
Update 2: Quotes from Mattingly …
"I turned to walk away, and James said something and I just kind of turned around. He asked me the depth that I wanted him, didn't even realize that I was off the dirt, and obviously I was.
"I kind of had a little bit of a feeling, because Adrian (Johnson) was yelling, 'No no no, you can't go back!' as I turned to talk to James, so I had a little bit of a feeling at that point.
"I'm aware of the rule, but again felt I had just kind of turned and turned back around, but obviously I guess I didn't.
"That's what I asked (crew chief) Tim McClelland. I said, 'Can he warm up?' He said, 'Yeah, I won't do that to him. I'm not gonna take a chance on letting a guy get hurt. So at that point (I'm) talking to (pitching coach Rick Honeycutt), not realizing how many throws he's getting.
"I'm not quite sure of (why they cut Sherrill off at eight warmup tosses). Again, Honey and I talked, and pretty much turned around and George is ready to go, so I figure he's ready to go. At that point I didn't realize they cut him off at eight."