In dropping their final two games at Pittsburgh while the Giants were scoring in the 14th inning Tuesday and the ninth inning Wednesday to defeat the Phillies, the Dodgers have fallen two games behind in the National League West standings. That figure will be 1 1/2 or 2 1/2 games after San Francisco plays a final game today at Philadelphia (and against Cole Hamels) beginning at 10:05 a.m. Pacific.
For the time being, this is the farthest back the Dodgers have been since June 27. Since going 16-6 to gain 10 games on the Giants between June 8-30 and move into first place in the division, the Dodgers are 8-10 in July.
Nevertheless, the Dodgers' pitching is lined up about as well you could imagine for their three-game series at San Francisco that begins Friday, with Zack Greinke, Clayton Kershaw and Hyun-Jin Ryu taking the mound and relievers Kenley Jansen and J.P. Howell off since Monday.
On top of everything else, the Giants will arrive in San Francisco well after the Dodgers have gotten there.
Greinke is scheduled to face Tim Lincecum, who picked up his first career save Tuesday and has been on a roll since throwing his second career no-hitter June 25. Lincecum has an ERA of 0.95 in his past 38 innings with 31 strikeouts against 28 baserunners. The batting average on balls in play against Lincecum during that time, however, is .140.
Saturday figures to pit Kershaw against Ryan Voglesong, who has a 3.99 ERA after allowing 11 hits to the 22 batters he faced in an abbreviated start Monday at Philadelphia — a game the Giants ended up winning, 7-4.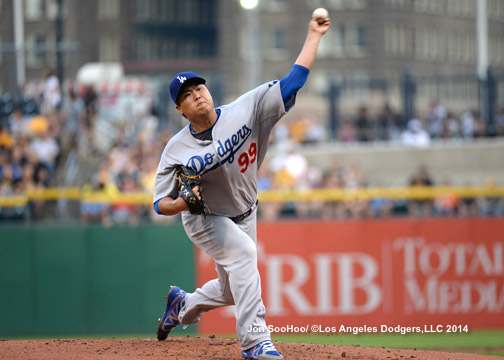 Sunday's scheduled pitchers are Ryu and Yusmeiro Petit, who has mostly pitched in relief and would be making his seventh start of the season. Petit has a 6.32 ERA as a starter this season after allowing five runs in five innings at the top of Tuesday's 14-inning game, his first start since May 31. Petit was replacing Matt Cain, who went on the disabled list Monday.
Madison Bumgarner and Tim Hudson, the Giants' two best starting pitchers this season, will have pitched Wednesday and today and therefore should miss the Dodgers. Mark Saxon of ESPN Los Angeles has a nice preview of the upcoming series.