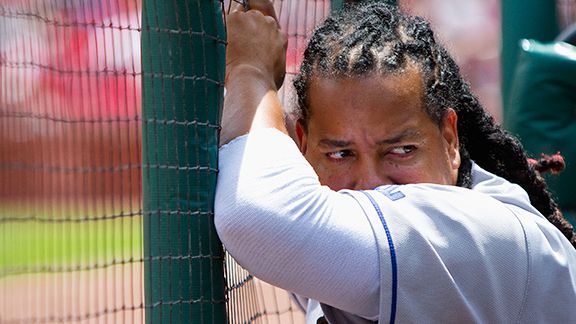 Dilip Vishwanat/Getty ImagesManny Ramirez looks on from the dugout at St. Louis on Sunday.
The news has finally come back on Manny Ramirez, and it's not good.
The Los Angeles Dodgers announced Tuesday that they have placed Manny Ramirez on the disabled list for the third time this season, and have activated Brad Ausmus from the 60-day disabled list to take his roster spot.

Ramirez suffered a right calf strain Friday in the first inning of his second game since being activated from the DL following a right hamstring injury.

A right calf malady also sidelined Ramirez from April 23 through May 7.

Ramirez has a .409 on-base percentage and .516 slugging percentage for the Dodgers this season, but has been held to 220 plate appearances — four in July.

Xavier Paul, Garret Anderson and utilityman Jamey Carroll are rotating in left field for the Dodgers in Ramirez's absence. Paul is in the starting lineup for Tuesday night's game against Tim Lincecum and San Francisco.

The activation of Ausmus, who had four plate appearances in 2010 before going on the disabled list with back trouble, gives the Dodgers three catchers on the roster for the time being, along with Russell Martin and A.J. Ellis. But with Reed Johnson already on the DL, Los Angeles had only one other outfield option on the 40-man roster: Double-A outfielder Trayvon Robinson. Martin has also been nursing a thumb injury, though he returned Monday and had three hits against the Giants.
Update: Joe Torre told the media today that Ramirez's strain was significant, and that he is expected to remain sidelined for three weeks.
Torre also said that the Dodgers will return to having two catchers as soon as Wednesday. Robinson is not a possibility for a callup, but the team is considering purchasing the contract of Jay Gibbons, who has a .915 OPS for Albuquerque.
Ramirez was placed on the disabled list retroactive to July 17, which would mean he could come off the disabled list August 1 at the earliest. However, because Ramirez would certainly clear waivers because of the size of his contract, the Dodgers could still trade him after the July 31 non-waiver deadline.