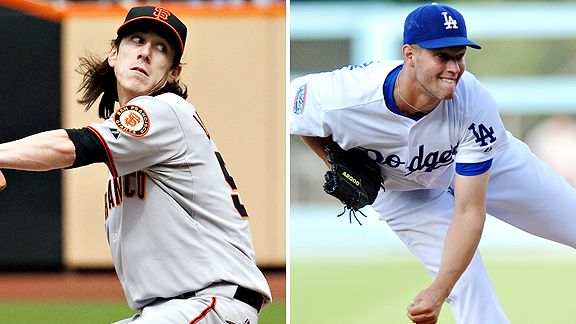 Icon SMITim Lincecum (2.94 ERA, 9.7 strikeouts per nine innings)
Clayton Kershaw (3.16 ERA, 10.0 strikeouts per nine innings)
Forget about everything else. Tonight, we've got a pure baseball matchup that you don't want to miss.
Tim Lincecum for the Giants.
Clayton Kershaw for the Dodgers.
First time ever.
The current Dodger roster has a .239 slugging percentage against Lincecum. Andre Ethier has done the best, while Casey Blake and Russell Martin are a combined 0 for 23.
Kershaw had been having a statistically better 2010 than Lincecum through the All-Star break, but that changed when Kershaw stunk and Lincecum shined last week.
Also of note, Kershaw has allowed 11 runs and 30 baserunners in 19 first innings this season. By comparison, Kershaw has appeared in 18 fifth innings and allowed one run.
The momentum is on Lincecum and San Francisco's side. But that didn't matter when Kershaw faced Ubaldo Jimenez and the Rockies in May. We'll see if it matters tonight.