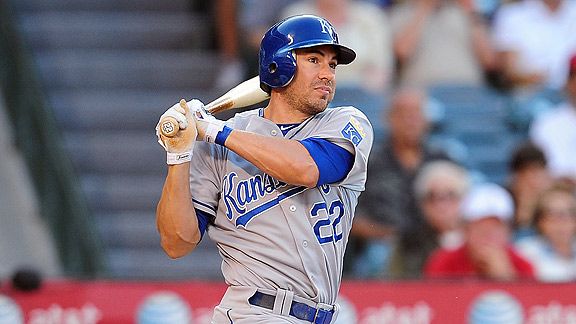 Gary A. Vasquez/US PresswireScott Podsednik
Seeking to solve their Manny Ramirez-less outfield problems, the Dodgers have agreed to a deal for Kansas City outfielder Scott Podsednik, according to ESPN.com writer Jayson Stark's sources. (Update: The Dodgers have confirmed the trade.)
The Dodgers parted with AAA catcher Lucas May, and more significant, Class A pitcher Elisaul Pimentel.
Podsednik, a 34-year-old left-handed hitter, draws comparisons to Juan Pierre — not the least because the White Sox replaced Podsednik with Pierre this winter. Podsednik hits for a bit more power than Pierre — as well as current Dodger part-time left fielder Jamey Carroll — but of course that's not saying much. Podsednik's slugging percentage in 2010 is .400, to go with a .352 on-base percentage. Like Pierre, Podsednik likes to run — but gets caught stealing his fair share.
In other words, this guy helps your team, but not a ton.
Podsednik is owed the remaining 40 percent or so of his $1.75 million contract for 2010, according to Cot's Baseball Contracts, plus a potential 2011 club option for $2 million. (Yes, the Dodgers are paying that remaining 2010 salary.)
Pimentel, who turned 22 this month, has had a very nice 2010 season for Great Lakes: 3.49 ERA with 97 strikeouts in 90 1/3 innings, against 106 baserunners.  Those numbers were actually even better until a poor July.
May, 25, has an .848 OPS for Albuquerque — he probably isn't a serious catching prospect at this stage. He wasn't going to replace Russell Martin or anything next season.
This is a hard spot for me — I never like to give up promising young pitching unless it's for a major player, and I don't think Podsednik qualifies.  My first reaction is that it's not the worst trade the Dodgers could make, but I'm not sure it was necessary.  The only thing I'll say is that, given that Pimentel was probably going to be at least 24 before sniffing the big leagues, I'm guessing the Dodgers didn't surrender the next Pedro Martinez.