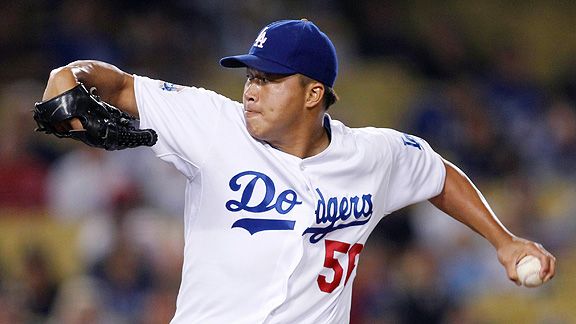 Danny Moloshok/APHong-Chih Kuo reaches the top five.
Well, the Dodgers just keep on adding players, and the Dodgers Cogs and Dogs machine keeps on churning. After using 45 players in 2007, 46 in 2008 and 47 in 2009, the Dodgers are already up to 44 now with an eye on 48 – or even 50, the total from 2005.
Remember that the rankings are partly subjective, and encompass value for the entire 2010 season.
| | | | | | | |
| --- | --- | --- | --- | --- | --- | --- |
| 8/9 | 7/26 | 7/12 | High | Low | Player | Comment |
| 1 | 1 | 1 | 1 | 20 | Clayton Kershaw | Holds top spot despite Nationals' double Dunn. |
| 2 | 2 | 2 | 2 | 14 | Rafael Furcal | Started only 72 of Dodgers' first 112 games this season. |
| 3 | 3 | 5 | 1 | 5 | Hiroki Kuroda | Retired last 17 batters Saturday. |
| 4 | 4 | 3 | 1 | 11 | Andre Ethier | Off to good start in August, despite 0 for 3 Sunday. |
| 5 | 7 | 8 | 7 | 18 | Hong-Chih Kuo | Dunn on Saturday was only fourth batter in '10 Kuo has had to face with bases loaded. |
| 6 | 10 | 10 | 6 | 12 | Chad Billingsley | Has allowed 0.5 HR/9 this season. |
| 7 | 5 | 6 | 5 | 24 | James Loney | Two homers, one steal away from first career 10-10 season. |
| 8 | 12 | 17 | 12 | 25 | Vicente Padilla | Leads NL in second-half ERA (1.04). |
| 9 | 9 | 7 | 4 | 13 | Jonathan Broxton | If he struggles as games grow more meaningless, that won't help his rep, will it? |
| 10 | 8 | 9 | 1 | 11 | Matt Kemp | I'm already anticipating the 2011 Spring Training "Kemp is serious" stories. |
| 11 | 6 | 4 | 3 | 12 | Manny Ramirez | You can't tell me he isn't missed in the lineup. |
| 12 | 11 | 11 | 6 | 16 | Casey Blake | Averaging more than a strikeout a game in second half. |
| 13 | 14 | 15 | 2 | 15 | Russell Martin | In first 20 career starts, in 2006, Dodgers went 17-3. |
| 14 | 15 | 13 | 12 | 15 | Blake DeWitt | Homered off a lefty (Chris Capuano) in first week as a Cub. |
| 15 | 16 | 14 | 13 | 21 | Jamey Carroll | Most steals (seven) by a Dodger without being caught in 2010 – until Sunday. |
| 16 | 17 | 21 | 7 | 21 | Carlos Monasterios | Third on team in HR allowed with 10. |
| 17 | 13 | 12 | 5 | 26 | John Ely | Season falling apart? Has allowed 16 runs in past 4 2/3 minor-league innings. |
| 18 | 19 | 18 | 17 | 25 | Ronald Belisario | So, too early for him to start working on his 2011 visa paperwork now? |
| 19 | 18 | 16 | 15 | 22 | Jeff Weaver | July torpedoed his season – might be back to non-roster status in Spring Training '11. |
| 20 | 20 | 19 | 8 | 20 | Reed Johnson | His next HBP will be 100th of his career. |
| 21 | 21 | 22 | 21 | 24 | Travis Schlichting | With Belisario and Weaver awaiting returns, probably won't see him until September. |
| 22 | 22 | 23 | 15 | 23 | Xavier Paul | Michael Restovich (.854 OPS) was released when Paul went down, then resigned when Jay Gibbons went up. |
| 23 | 24 | 24 | 9 | 24 | Ramon Troncoso | He and Belisario combined for 142 games in '09, might not get 100 this year. |
| 24 | 23 | 20 | 7 | 23 | Ronnie Belliard | Five HR in 24 games with Dodgers last year, two in 68 this year. |
| 25 | NR | NR | NR | NR | Ted Lilly | Eleven strikeouts, no walks in first two Dodger starts? Not Ely, Lilly. |
| 26 | 26 | NR | 26 | 26 | Kenley Jansen | No, even with Martin out, his catching career is done. |
| 27 | 25 | 25 | 23 | 25 | Justin Miller | Returned to Isotopes with three shutout appearances, lowering AAA ERA to 1.93. |
| 28 | NR | NR | NR | NR | Ryan Theriot | Carroll has won me over enough that I want him to stay in lineup over Theriot. |
| 29 | 27 | 26 | 19 | 27 | A.J. Ellis | Second extra-base hit in 55 at-bats arrived Sunday. |
| 30 | 28 | 27 | 25 | 29 | Jon Link | Wouldn't be surprised to see him spend bulk of 2011 in majors. |
| 31 | 29 | 28 | 23 | 29 | Brad Ausmus | 4 for 20 with a double at the plate this season – just like Padilla. |
| 32 | NR | NR | NR | NR | Octavio Dotel | Dotel is one of those guys who came to the Dodgers about 5-10 years after first rumors. |
| 33 | NR | NR | NR | NR | Jay Gibbons | Today marks third anniversary of last major-league hit before Sunday. |
| 34 | NR | NR | NR | NR | Scott Podsednik | .536 OPS, two errors, one inside-the-park homer allowed in first 11 games as Dodger. |
| 35 | 30 | 29 | 29 | 30 | Chin-Lung Hu | About to complete his sixth week on minor-league DL. |
| 36 | 35 | 36 | 26 | 36 | George Sherrill | Believe it or not, second on team in games pitched behind Broxton. |
| 37 | 31 | 30 | 17 | 31 | Ramon Ortiz | Pitched complete-game two-hitter for Buffalo on July 30; 0.93 ERA in past four starts. |
| 38 | 32 | 31 | 27 | 32 | Nick Green | Signing with Padres in July not enough to keep San Diego from pursuing Miguel Tejada. |
| 39 | 33 | 33 | 3 | 36 | Charlie Haeger | Now has better minor-league ERA this season than Ely. |
| 40 | 37 | NR | 37 | 37 | James McDonald | Had career 2.78 ERA, 8.0 K/9, .684 OPS as reliever when traded for a reliever. |
| 41 | 34 | 34 | 16 | 34 | Garret Anderson | As pinch-hitter, 12 for 50. Otherwise, 16 for 104. |
| 42 | 36 | 35 | 22 | 36 | Russ Ortiz | This space for rent. |
| 43 | 38 | 32 | 32 | 38 | Scott Elbert | Can't remember the last time a significant L.A. prospect took a leave of absence like this. |
| 44 | 39 | NR | 39 | 39 | Jack Taschner | Five years from now, I'm going to quiz you on the Jack Taschner Era. |