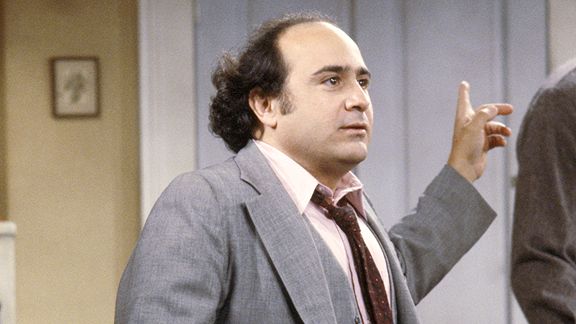 Paul Drinkwater/NBCU Photo Bank/AP ImagesLouie De Palma
In the first season of "Taxi," there was an episode, "Bobby's Big Break," where the aspiring actor played by Jeff Conaway got the big role he had been waiting for, and with a grand gesture, quit the cab-driving racket.
The job fell through, and it became clear to the conscience of the Sunshine Cab Company, Alex Reeger (Judd Hirsch), that Bobby would be crawling back to ask his dispatcher Louie (Danny De Vito) for his old job.
Louie was beside himself. He reveled in the anticipation of how he would rub his nose in Bobby's failure. It was a bravura performance by De Vito, one of the highpoints of this classic show. Louie would be going in for the kill.
Alex urged Louie not to do it, to hire back Bobby without doing any more damage. Louie cackled. Why on earth would he ever do such a thing?
"Because," Alex said, with dead seriousness (and nothing else to offer), "you shouldn't."
Louie went nuts. "I shouldn't?  I shouldn't?? Oh no, I shouldn't!"  It went on and on. You've never seen such fine mockery of such a preposterous notion.
Bobby entered. The moment was coming.  Louie could barely contain himself, purring like a tiger poised for the pounce.
Bobby asked for his job back.
And Louie said, polite as can be, "Welcome back."  And turned away, growling.
As far as Dodger fans are concerned, this is all we have. Despite Peter O'Malley, whom Bill Plaschke of the Times correctly describes as the conscience of the Dodger legacy, voicing what so many have been thinking – that the Dodgers don't belong in the McCourt hands – we are at that family's mercy, at least until the matter is resolved in the courts. And it could be a long time before that resolution comes.
The McCourts have the Dodgers, and have shown no sign they intend to get rid of them voluntarily. Everyone in that splintering family aims to keep them.
And all we can say to them is: "You shouldn't." And ask that they can reach the moral heights in the business world … of Louie De Palma.
Wish us good luck.
* * *
Congratulations to Russ Mitchell on his first major-league hit and home run. Giants 10, Dodgers 2.