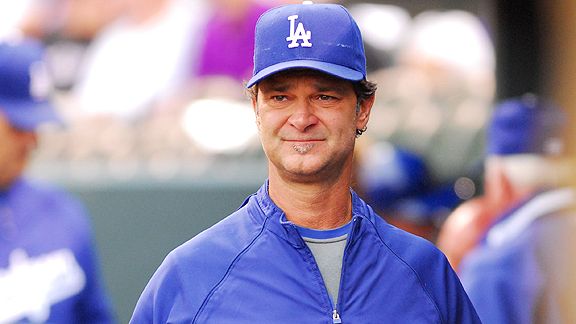 Dustin Bradford/Icon SMIDon Mattingly will be the Dodgers' seventh manager since 1996.
The Tim Wallach bandwagon seemed to be gaining steam in recent weeks, but in the end it was as everyone foretold: The Dodgers have officially announced that Don Mattingly will manage the team in 2011, succeeding Joe Torre.
With any first-time manager, you don't really know how it's going to go until it goes (that's my poor imitation of Joni Mitchell). Wallach was something of a sweetheart candidate, partly with his echoes of Mike Scioscia (even though Wallach mainly spent his career in Montreal), but more because he just seemed to have earned the job more than Mattingly had. Player reports were glowing. But unless you've been hanging with the Isotopes, you didn't really see how he managed a team, and even if you were in Albuquerque, you don't know how his strategy might change with winning a priority over player development.
Of course, Mattingly is an even bigger mystery. The Dodgers are betting that his understanding of the game and Torre's tutelage trumps any need for having done this before, and that managing in the Arizona Fall League will seal the deal.  I wasn't convinced all year that this was a good bet, and I'm not convinced now. I poured my thoughts out on this in June, and my take on this remains what it was:
… I don't know of anyone, even his stanuchest supporters, who touts Torre as a brilliant tactical manager. He has had moments of strategic inspiration, but they seem more than undermined by his justifiably maligned use of his pitching staff and other odd lineup and bench moves. Some of the criticism of Torre is overblown, but there's a layer of truth to it that dates back to his Yankee days.  …

Obviously, Mattingly's baseball knowledge is not limited to his time by Torre's side, but surely his tactics are going to be heavily influenced by Torre. And that, while not being the worst thing in the world, is not anything to be excited about.

Then you have to ask yourself, is Mattingly the type of person who can nurture a clubhouse, who can make a team better when the game isn't going on?

I don't know Mattingly at all, so I'm not qualified to answer that question. But my concern is that Mattingly is being handed this job not because of any actual qualifications, but because he's perceived (hoped) to be Torre II. He'll continue Torre's winning ways just by having soaked up his innate Torreness.

If it were that simple, I don't think Lakers fans would be concerned about Phil Jackson leaving.

As a counter-example, Tim Wallach has both coached on the major league level and managed on the minor league level for the Dodgers. He was named Pacific Coast League Manager of the Year in 2009. This season, he has been doing a barefoot walk across the coals, because the Dodgers' pitching problems have absolutely burned their top affiliate in Albuquerque. In this season alone, Wallach has had to use 17 starting pitchers this season in 74 games. He has very little in the way of top-rated Triple-A prospects right now. He has had to work without the safety net of a Joe Torre and then some.

This resume doesn't prove that Wallach will be a successful major league manager. But I can't see how it isn't a better resume than Mattingly's, whose entire managerial C.V. consists of, "He's Don Mattingly, Yankees legend and student of Joe Torre."

As the Dodgers prepare to bid farewell to Torre, this year, next year or whenever, they have some responsibilities, some explicit, some implicit. For one thing, Major League Baseball requires the Dodgers to interview at least one minority candidate for the position. Whether you believe in this rule or not, I'd argue that the Dodgers should not make this interview a token activity, but rather at least one of a number of serious interviews, a wider exploration into whether anyone is better than Mattingly for the job. Clearly, Mattingly has impressed people in the organization, but has he done so in ways that really matter? If they pause and step back, are there not potential managers out there who would be more compelling?

By writing this piece, I risk giving this decision more importance than it deserves. The talent on the field is still more important than the talent in the dugout, and a hire of Mattingly isn't going to ruin the Dodgers. Mattingly is not Torre, and given what happened Sunday, some might say that's a good thing. But the Dodgers should ask themselves whether a Mattingly hire would bring continuity in all the wrong places.
I really do think the Dodgers or MLB need to answer why the minority interview requirement for the Dodgers is being bypassed for the second time in a row.
In the end, Mattingly may turn out to be the real deal as a manager, just as he was as a player. Just like Torre, in fact. Keep in mind, though, that Torre (who took over the Mets as a novice manager while still on the active playing roster) didn't have a winning season until his seventh season.
So maybe the way to look at this is you're giving a young prospect with great potential a quick route to the big leagues, just like, say, Clayton Kershaw. Or Matt Kemp.  Or Joel Guzman. You know, one of those.