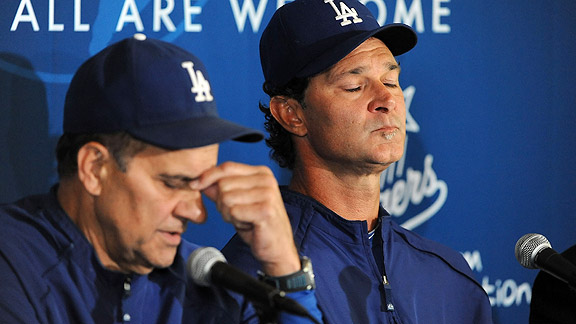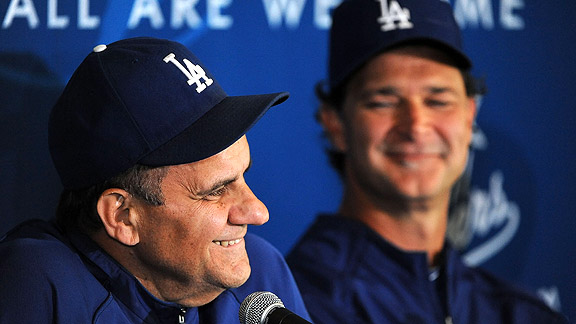 Lisa Blumenfeld/Getty Images
Joe Torre conducted himself with a level of class and warmth that will probably be the standard future Dodger managers are measured by … until there's a Dodger manager who succeeds in a different style.
In 2008 and 2009, he reestablished the World Series as a legitimate possibility for the Dodgers, guiding the team to the brink of the Fall Classic … unless it wasn't so much him as the confluence of talent that had coalesced around him.
In 2010, that team fell apart, with Torre himself conceding that perhaps he was no longer the best man for this particular job … except maybe that it wasn't the manager who blew it for the team, but the team that blew it for the manager.
If three years are long enough for an era, I suspect that the Joe Torre Era will be remembered fondly overall, even with the bad taste of this year's team, which needs to go 9-5 for a .500 finish and at least 6-8 to avoid, as Eric Stephen points out at SB Nation Los Angeles' The Red Carpet, saddling Torre with his 2000th career loss. If the Dodgers continue their downward trend, Torre's Time might even be remembered as the good ol' days. And if the Dodgers reverse their cursed ways of 2010, well then, no real harm done in this final year.
But it would be incomplete not to acknowledge that over his three seasons in Los Angeles – including even the winning years – that Torre exasperated a healthy segment of Dodger followers, whose interest in his gravitas was run over by his debatable baseball decisions on a number of fronts. Whether pro-Donnie Baseball or con, more than a few people were waiting fervently for Friday's official announcement in a way that the Torre hagiography doesn't quite recognize.
Torre came to Los Angeles with questions about whether the New York Yankees succeeded because of him or whether he succeeded because of the Yankees, and he leaves Los Angeles (at least as its skipper) with those same questions lingering. And so the fuzzy answer to defining Torre's legacy in a larger sense, in and beyond Los Angeles, is a compromise: It was part him, and part everything else. How much of each? Who knows?
The practice in baseball of hiring and firing managers – the same guy who won you a title then is somehow responsible for your downfall now – dates back more than a century, and not even Torre was even able to change it. In fact, given his comments Friday about feeling young, wanting to continue to feel young and never saying never to what might come next, Torre did nothing less than extend that practice to himself. (Even if he resigned as Dodger manager for no other reason than to get away from the McCourts, it would somehow reflect his own opinion of the limits of his ability.)
For me, there will always be the Torre I liked and the Torre I didn't. I think the Torre I liked probably stands out more, because there was more success than failure, and because I did feel warmth toward him. Others will feel differently, no doubt. Both Torres are there, and neither can be denied.