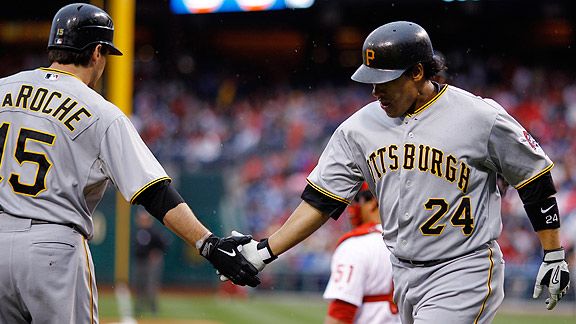 Matt Slocum/APAndy LaRoche congratluates Delwyn Young after Young's solo home run May 17 in Philadelphia.
Two seasons ago, the Dodgers gave away Delwyn Young, then sent Andy LaRoche away to get Manny Ramirez a few months later. Now, the Dodgers can have them back for nothing. Pittsburgh designated Young and LaRoche for assignment today.
Both players occasionally flashed ability but mostly have washed out. That's not as big a surprise for Young, who was never expected to be much more than a bench player, but the bigger disappointment was LaRoche, whose fine minor-league career seemed to have him poised for a starting role. Indeed, yours truly insisted in 2008 that the Dodgers didn't give LaRoche a fair chance to win the third-base job before deciding to trade Carlos Santana and Jon Meloan for Casey Blake, days before the Ramirez trade.
When LaRoche was sent away (along with minor-league pitcher Bryan Morris), I consoled myself with the fact that at least the Dodgers were getting a major talent back. And more than ever, there's no doubt the trade was a major win for the Dodgers, especially with injuries and stagnating development making LaRoche a discard.
Either player might be worth a flyer on a minor-league contract, especially considering the Dodgers' depth issues, but based on Ned Colletti's past actions, if there's any ex-Pirate he'd be taking a chance on for next season's major-league roster, it would be today's third DFA, Zach Duke. Duke is five years removed from the 1.81 ERA he posted in his rookie debut and hasn't averaged more than 5.5 strikeouts per nine innings since, but he did have a 4.06 ERA in 2009 and will still only be 28 in April. For a general manager who saw potential in every R. Ortiz under the sun, Duke certainly seems like someone whose tires would get kicked.
And believe it or not, there's a fourth ex-Pirate in the Dodger news today, though don't expect to see him in Los Angeles. The Dodgers purchased the contracts of two players and added them to their 40-man roster – one was 28-year-old catcher Hector Gimenez, who had a .916 OPS for the Pirates' Double-A team in Altoona – the first time in eight professional seasons he had broken the .800 mark.
The other was Luis Vasquez (25 in April), who had a nifty 2.68 ERA and with 39 strikeouts in 40 1/3 innings, but all the way down in Single-A. Vasquez allowed only 24 hits but walked 26.
No, this doesn't mean the Dodgers have solved their catching and bullpen issues. Nor, certainly, have they provided us an answer who will start in left field in 2011, though Colletti gave Jim Bowden of MLB Network Radio (news via MLB Trade Rumors) this conversation piece: Jay Gibbons, Xavier Paul and Jamie Hoffmann are all considered candidates to be the outfield's Opening Day third wheel.
* * *
Don Mattingly completed his managerial stint in the Arizona Fall League, and Tony Jackson of ESPNLosAngeles.com touched base with him.