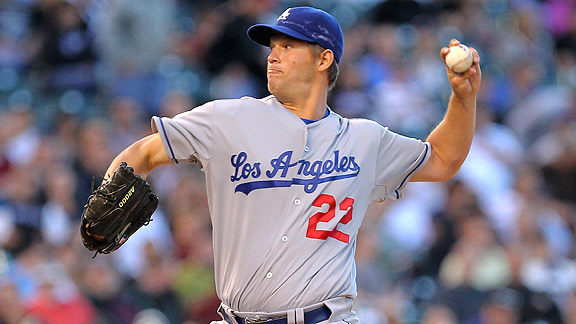 Doug Pensinger/Getty ImagesClayton Kershaw
The Dodgers are going to give Jerry Sands a breather from the major leagues, replacing him on the active roster with lefty-hitting outfielder Trent Oeltjen, who had a .429 on-base percentage and .583 slugging percentage at Albuquerque. Tony Jackson of ESPNLosAngeles.com has details.
In addition, the Dodgers outrighted minor-leaguer Luis Vasquez from the 40-man roster to Single-A Rancho Cucamonga.
Have no fear about Sands — despite his recent slump, his initial foray into the bigs should be viewed in a positive light, providing some great moments as well as some knowledge of how he has to improve.
As for the major-league roster, I wonder if this move sets the stage for Casey Blake to play some left field, as was discussed months ago.
* * *
It's Clayton Kershaw Day on the Internet, with several pieces on the Dodger lefty:
Tim Kurkjian of ESPN.com is exceedingly complimentary, noting that no 23-year-old major-league pitcher (according to the Elias Sports Bureau) had ever had as many career victories and as low a career ERA while striking out more than a batter per inning before Kershaw.  Kershaw says he benefited from his fast start.


"The Dodgers did me a huge favor calling me up as early as they did," Kershaw told Kurkjian. "I took my lumps, but I'm better off for it. What I've learned to this point has been huge for me."

The biggest adjustment came this year when he added a slider in part because, "I couldn't control my curveball." Manager Don Mattingly agreed, but added, "No one [umpires] calls the curveball [for strikes] anymore. No one swings at it. So, you can't throw it. But his slider and changeup have become very good. When I first saw him, he could throw a fastball for a strike on the inside part of the plate to right-handed hitters. Now he can throw the ball to both sides of the plate, against right-handed and left-handed hitters. His bullpens are now art. He throws five pitches in, five away. He moves the ball around. It's boom, boom, boom." …

Dave Cameron of Fangraphs names Kershaw as a finalist for best southpaw in the National League, before going with a Phillie.
David Schoenfield of ESPN.com also makes the case for Kershaw as a top young lefty in MLB, before giving Tampa Bay's David Price a slight edge.
According to the Dodger press notes, since making his major-league debut in May 2008, no pitcher with at least 400 innings has a lower opponents' batting average than Kershaw (.221 batting average, 7.3 hits per nine innings).