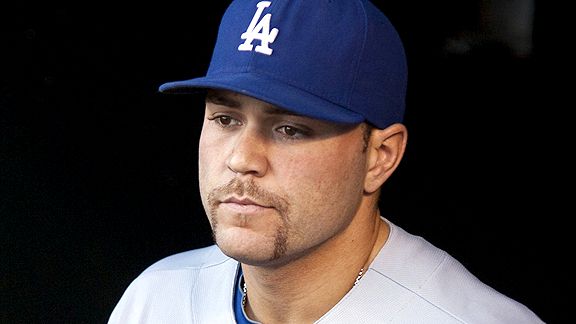 Jason O. Watson/US Presswire
Russell Martin
It's really a complicated dance between struggling player and dubious team.
As we now know, Russell Martin did not score any financial windfall by signing with the New York Yankees after parting ways with the Dodgers. So from a money standpoint, there's no indication whatsoever that the Yankees wanted Martin more than the Dodgers did.
Further, we know the Dodgers had a handicap. They were bound to the possibility that Martin might earn a substantial  raise through salary arbitration, had they guaranteed him a 2011 contract at the December 2 deadline for eligible players. Martin himself understands why the Dodgers might not have wanted to take that risk.
Despite all that, it's pretty clear from his introductory press conference with the New York Yankees — who have named him their starting catcher — that Martin's ego was bruised by the whole experience.
On an emotional level, you can understand it, even if it isn't quite logical.  Martin himself seemed to be struggling with the contradiction.
"Not necessarily surprised," Martin said of his reaction to being non-tendered by the Dodgers. "I always knew that there was a possibility, and it was probably a tough call for them.  You have a guy who wasn't doing that good past couple of years, and probably getting a raise again (if arbitration was involved.
"It definitely, definitely wasn't easy, but it's kind of hard to explain emotionally how I was feeling. It was just one of those things. … I really wanted to see how much they really wanted me, because if they did, they would have tendered me a contract. See if they still believed in me and things of that nature.  By doing (what they did), they kind of gave me the answer I wanted to find out about."
The Yankees, essentially, never had the same opportunity to hurt Martin's feelings (justifiably or not) the way the Dodgers did. And so, once that December 2 deadline had passed, a fresh start was inevitable.
Martin said he doesn't regret the money he possibly might have lost in the transition.
"I just really wanted to find out, and the only way to find out how much a team wants you is you take a risk," he said.
Of course, Martin represents a risk for the Yankees as well. Not only has he been recovering from his season-ending hip injury, but his physical revealed a small meniscus tear in his right knee that will require surgery. The recovery time is expected to be three weeks.
Not surprisingly, Martin said he isn't concerned.
"It's the first time I had any problems with my knees, so I really don't know what to expect," Martin said. "From what I've heard, it's a pretty simple operation. I think CC (Sabathia) had it done at the end of the year. Three-week recovery, and obviously I have to rehab.  I'm not too concerned with it — obviously the timing's bad, because it will affect my offseason training a bit. But from what I've heard, I will be ready by Spring Training."
Martin added that his hip has felt fine for about a month. He said that he can't say for sure how it would feel after catching 10-12 games in a row, but then conceded that people don't necessarily want him to do that anymore, as much as he might resist rest.
"I like playing baseball, so it's hard for me to not want to catch, ever," Martin said. "My best years are probably the years where I've caught the most. I don't really have a number in mind. I like to let the manager dictate those types of things. (Writer's note: We've heard otherwise in past seasons.)
"I've learned through the years, when I do feel my body is banged up, it's better for the team for me to take a day rather than drive myself into the ground and be worthless for the rest of the year."
Martin also talked about his offensive struggles of the past two years. In recent winters, stories of Martin's offseason training have often come across like warning signs, each year seemingly bringing a different approach. Mostly, he feels he lost strength, then tried to compensate with his swing and ended up fouling that up.
This winter, he suggests, brings the back-to-basics edition.
"I think it's (been) just me trying to make adjustments to strive to be even better," he said. "I've tried some things to be a little more athletic, a little faster, instead of sticking to the basics of what made me successful. I think I almost got in my own way. So this year, I made sure to go back to my roots … instead of trying to do more, just really trying to reflect back on what got me there."
He noted that while his offense has regressed, he feels his defense and handling of pitchers has only improved.
In the end, Martin seems genuinely pleased with where he has ended up: closer to his family home, in an everyday role (health permitting) and with another (and of course potentially better) contender.
"My main goal is to have a chance to win," Martin said, "and if you want to pick a place to win, I don't think there's any better place to pick than New York with the Yankees.
"They've told me that I'm the starting catcher, and that's what I expect to be. That's what I'm training to be.  Obviously, I feel like I need to earn that. I don't feel that there's anything owed to me or anything like that, especially the way the last two years have gone for me. But my goal is to go in there and do the best I can and help this team win."
Martin doesn't leave Los Angeles without some regret.
"We got a taste of what we wanted to accomplish," he said, "but there's only one winner, and the goal is to win the World Series. We got to the playoffs — we had some good seasons, (but) we fell short a couple of years. It was a great experience, a good learning process.
"Obviously, I'm disappointed  in how it all ended, but what can you do?"