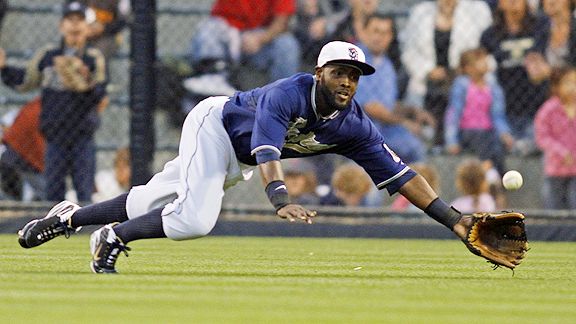 Denis Poroy/AP
Tony Gwynn Jr.
As I walk through the valley of the shadow of no frontline left fielder, with yea but another candidate abandoning us to  aimless wanderings,  my thoughts seek a place to turn.
I believe that Xavier Paul, Jay Gibbons and Jamie Hoffmann can make positive contributions, but as I started to make a case for each of them in left field, I couldn't finish the job. The offensive ceilings for Paul and Hoffmann just seem too low, and the defensive limitations of Gibbons too pronounced. I'm content to see them get a chance, but I just don't have confidence it would go all that well.
The problem with turning to a 35-year-old Scott Podsednik is that his defense is pretty poor itself. Podsednik would probably post a better on-base percentage than any in-house Dodger candidate, but not so much better that he'd be worth more millions spent by Ned Colletti.
Minor-leaguers Jerry Sands and Trayvon Robinson? Despite their relative promise, only once in five seasons has Ned Colletti promoted a AA player into a major-league starting role in April, and that happened to Blake DeWitt only because injuries had left Chin-Lung Hu and Ramon Martinez as the only alternatives.  Paul, Hoffmann and Gibbons don't fall to that level. And I'm not convinced that Colletti should break that policy right now, because unlike with Paul and Hoffmann, I imagine Sands and Robinson still have more to learn in the minors.
There's a guy out there who would represent a pretty nice part-time addition to the roster, by the name of Manny Ramirez, but I know the Dodgers don't want to go down that road.
That doesn't exhaust all the possibilities, but there really isn't much else to talk about in terms of difference-makers. And that's why, more and more, I find myself ready to throw my lot with Tony Gwynn Jr. — if, as was discussed last week, he plays center field.
Of everyone discussed here, Gwynn offers the most elite skill, if not the only one — his defense.  He's something of the polar opposite of Ramirez, and it seems to me that he is the one person left in the conversation who can truly transform the Dodger lineup. By placing him in center and moving Matt Kemp to right field and Andre Ethier to left, Gwynn would turn the Dodger outfield defense from a weakness to a strength.
At a minimum, it would be a low-risk way to buy some time until Sands or Robinson proves more ready to make the leap to the majors, possibly at midseason. Or, until the Dodgers decide to make their annual midseason trade.
I don't think Colletti or Don Mattingly would be opposed to asking Kemp or Ethier to switch positions. Would either player rebel? Perhaps, although if they are that selfish, we've got other problems.
Here's a Dodger lineup with Gwynn in center:
Rafael Furcal, SS
James Loney, 1B
Andre Ethier, LF
Matt Kemp, RF
Juan Uribe, 2B
Casey Blake, 3B
Rod Barajas, C
Tony Gwynn Jr., CF
Offensively, it's shaky, but it's not as if any of the other outfield options would save the day. But defensively, there's actually hope.
I've looked at the Dodgers' outfield dilemma many different ways — coming at the problem, in fact, with a bias against Gwynn signing with the team to begin with. There might be no more surprising event to me than making an argument for Gwynn to be in the Dodger starting lineup. But I just don't see a better way to go right now.  Tony Gwynn Jr.  has a first-rate skill that no other Dodger has, and the Dodgers absolutely must consider taking advantage of it.