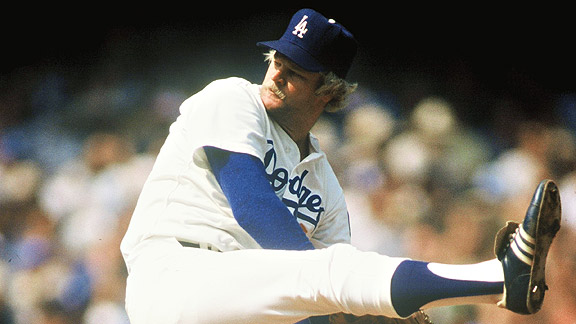 Getty ImagesJerry Reuss pitched 10 complete games in 29 starts for the Dodgers in 1980.
When the Dodgers were attempting to rally from three games behind Houston with three games to play on the final weekend of the 1980 regular season, I was on my school's eighth-grade retreat at world-famous Camp Ta Ta Pochon.
I listened to the final innings of the Friday comeback victory with my transistor radio and an earphone while we were watching the rather odd youth movie, "Bless the Beasts and the Children." And I listened to the final innings of Sunday's dramatic triumph surrounded by classmates on the bus ride home.
But I had never heard a moment of the Saturday game until this week, when I was granted the privilege thanks to a cassette package mailed to me by longtime Dodger Thoughts friend and commenter Stan from Tacoma.  The Saturday game is the least discussed of the four games the Dodgers played against Houston to end the season, but it was a minor gem in its own right – an utterly taut affair from start to finish.
Jerry Reuss started for the Dodgers against future Hall of Famer Nolan Ryan of the Astros. A high-profile free-agent signing, Ryan was in his first season in the NL since being traded from the Mets to Angels in December 1971. At age 33, Ryan had gotten his 3,000th career strikeout midway through 1980. His ERA in 1980 was a stylish 3.35, though given the advantages of pitching in the Astrodome, this was arguably a down year for the Express.
Reuss had come to the Dodgers before the 1979 season and been something of a disappointment, though his 7-14 record belied his 3.54 ERA. In any case, he began the 1980 season in the bullpen, before emerging as one of the team's top starters: a 2.51 ERA and an National League-leading six shutouts, including his June 27 no-hitter at San Francisco.
Even with those credentials, Reuss was under the microscope of Dodger manager Tommy Lasorda. Just two batters into the game, after Reuss walked Houston leadoff hitter Joe Morgan on a 3-2 pitch and then gave up a single to Enos Cabell, Dodger radio announcer Jerry Doggett saw that Rick Sutcliffe – banished to relief after winning NL Rookie of the Year honors in 1979 – had gotten up in the bullpen.
But Reuss bounced back. He got Dodger nemesis Jose Cruz to pop to shortstop Derrel Thomas, and then Cesar Cedeno hit into a 4-6-3 double play to end the inning. Sutcliffe sat down and never rose again, as Reuss went on to retire nine batters in a row.
The Dodgers struck first in the bottom of the second inning. Steve Garvey, who entered the game needing four hits for 200 on the season, notched a single on a blooper that Morgan normally would have caught. (Both second basemen were ailing: Morgan had strained his knee in Friday's game, while Davey Lopes had a severely strained neck. Neither finished the Friday or Saturday games.)  One out later, Pedro Guerrero, the Dodgers' center fielder, singled Garvey to second base.  Ryan struck out Joe Ferguson, but facing Thomas, the Dodger utilityman who had become the team's starting shortstop in place of an injured Bill Russell, dropped a single the opposite way into left field to score Garvey for a 1-0 Dodger lead.
The Dodgers caught a break to score their first run; the Astros caught one to score theirs. With one out in the top of the fourth, Cruz hit one to center that Guerrero lost in the smoggy sky (Doggett and Vin Scully both commented on how ugly the air was this day). Cruz stole second, went to third on a Cedeno grounder and then scored on a single to center by Art Howe to tie the game.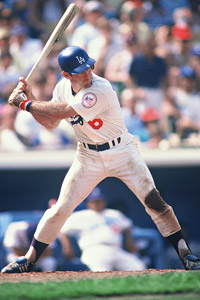 Getty Images
With three hits against Nolan Ryan, Steve Garvey was on a .412/.452/.647 hot streak over his past 17 games.
The next run of the game was no gift.  Garvey started the bottom of the fourth with a no-doubter blast, his 26th homer of the season – giving him, as Scully noted, at least one home run against every NL team this season.  Garvey would later single in the sixth inning for his 199th hit of the season and ninth in 18 at-bats against Ryan. "If you can go 9 for 18 against a million-dollar pitcher, that's like owning a condominium, isn't it?" said an admiring Scully. "Garvey is undoubtedly one of the greatest hitters to wear a Dodger uniform," added Doggett when he returned to the mic for the final three innings. "Undoubtedly."
The score remained 2-1 entering the seventh inning, thanks in large part to huge defensive plays by Los Angeles. In the fifth, the aching Lopes managed to snag a line drive off Morgan's bat and turn it into an inning-ending double play. And with one on and none out in the sixth, Thomas took a carom off Reuss' glove and converted it into a 1-6-3 twin killing.  Then Guerrero, still struggling with the October sky, struggled with a Cedeno fly but managed to catch up to it to end the top of the sixth.
Like Garvey, Ryan was also on a quest for 200 – in fact, both of them entered the seventh inning at 199. In Ryan's case, it was strikeouts, and he got his 200th on the second-to-last batter he faced.  The victim was Reuss, who went down after failing to sacrifice Joe Ferguson to second base.
Both teams went down in order in the eighth, Reuss easily navigating pinch-hitters Terry Puhl (the Astros' leading home-run hitter in 1980 with the grand total of 13) and Jeffrey Leonard, while reliever Frank LaCorte held off Garvey's final Saturday bid for his 200th hit. Reuss' strikeout of Puhl was his seventh of the game, a season high.
That brought us to the ninth, with the crowd audibly willing the Dodgers to hold on.  By this time, the Dodgers had made three defensive replacements: Jack Perconte for Lopes at second base, Rudy Law for Dusty Baker (also hurting) in left field and Mickey Hatcher for Rick Monday in right field.  Those replacements proved meaningful both for what they didn't and didn't do.
First, Perconte made a nice play on a Cabell grounder to get the first out.
Then, Guerrero, again getting a late read, put the crowd in suspense before making yet another last-instant catch. The Dodgers were one out away from victory, but under 24 hours before, the same had been true of the Astros.
Up came Cedeno, who had been having a most unlucky day. This time, the luck turned – he hit a blooper that Perconte couldn't reach, keeping the Astros alive. Art Howe then hit another blooper to center that Guerrero, playing deep to prevent an extra-base hit, had no chance at. Suddenly, the tying run was at third base for Houston.
With soon-to-be Rookie of the Year Steve Howe warming up in the bullpen, Dodger pitching coach Red Adams visited Reuss at the mound.  But there was no hook.  According to Reuss on the postgame show, Adams simply told him, "Just relax."
Doggett, I should say at this point, was about the best I have ever heard him – totally on his game in describing the game and setting the scene.  "What excitement – what a series!" he said over the roaring crowd. The batter was Gary Woods, who had gotten the start over Puhl against the left-handed Reuss but had struck out three times. Finally making contact, he hit one to Perconte, in the thick of the fray in this, only his 14th major-league game. Perconte tossed to Garvey, and the Dodgers had stayed alive for one more day.
Reuss thanked the fans on the postgame show with Ross Porter. "I've heard it in other places, but not this many, this loud," Reuss said. Porter asked Reuss about the fact that he was starting on three days' rest. "I never gave it a thought until someone said something about it, and then I said, 'What the heck.' "
Garvey also thanked the fans, and said how much he enjoyed the pressure situations. And then, as Porter thanked him for the interview, Garvey said, "Hi to Cyndy and the girls."
Those fans listening on the radio who were geared up for hearing Scully do Sunday's big game were in for a surprise. Here are his closing words for the day:
"Well, friends, it has been a magnificent day, a great weekend and a most exciting season, and of course  tomorrow the Dodgers and the Astros this time put it all on the line. All of the pressure had been on the Dodgers, but now it will be equally shared amongst the Astros, because they suddenly find themselves in a must-win situation. It's Burt Hooton and Vern Ruhle. And I have a confession to make – I won't be here, unfortunately, as my schedule has me doing a football game down in Anaheim. And my mind, and my eyes and all of my senses will be in Anaheim, but boy, will my heart ever be here at Dodger Stadium. Hope you'll be here. Hope you'll find out about tomorrow, and then if it be so, why it'll be my pleasure to be talking to you again on Monday. So we'll see. But right now, that'll do it for today, from Dodger Stadium, as the Dodgers nip the Astros, 2-1."
The Rams would beat the 49ers, 48-26, and then we'd see Vin on Monday. I'd have that transistor radio with me at school.