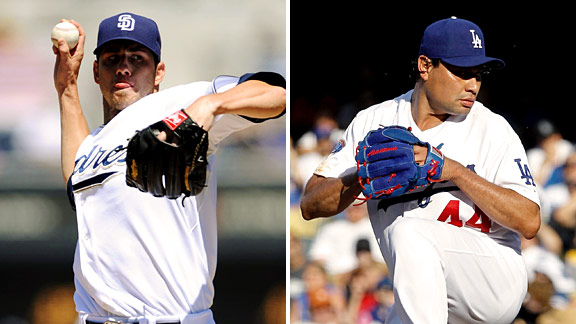 US Presswire/Icon SMIJon Garland had a 2.72 ERA in six late-season starts with the Dodgers in 2009, but Vicente Padilla took his spot in the postseason.
Ever since Jon Garland and Vicente Padilla signed/re-signed with the Dodgers, nothing has been said to indicate that Garland's spot in the Dodger starting rotation is anything but guaranteed, or that Padilla will have a shot at the starting rotation unless there's an injury.
I know why this is – I just wonder why this is.
The first "why" is a combination of theories that Padilla is a) better suited for relief work  – in fact, might even excel in the role, b) has health issues that would benefit from being in the bullpen and c) simply isn't as good as Garland.
But the second "why" offers this: Padilla was one of the best Dodger starting pitchers of 2010 when healthy, and his health issues aren't as career-threatening as, say, Hong-Chih Kuo's, but rather closer to those of someone like Hiroki Kuroda. Padilla might simply be a better starting pitcher than Garland – certainly, the Dodgers came to think so in 2009, when Padilla ousted Garland from the Los Angeles starting rotation and then shined for most of the playoffs.
Ultimately, this question might be moot – sadly, odds are at some point in the season that an injury to another Dodger starting pitcher will put Garland and Padilla in the Dodger rotation at the same time. And the Dodgers seem to be pretty clear about the pecking order for when all the starting pitchers are healthy. But I still think it's interesting that Garland is considered an automatic. They tried these guys together once before, and Garland was the one who was pushed aside.