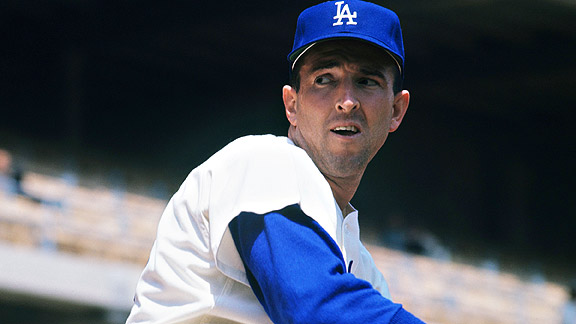 Al Messerschmidt/Getty ImagesClaude Osteen had a 3.09 ERA in nearly 2,400 innings after coming to the Dodgers in the big Frank Howard trade.
It wasn't easy picking the All-Time Los Angeles Dodgers Import Team, as you can now truly see. The following roster includes my leftovers and suggestions by Dodger Thoughts commenters. Keep in mind that players such as Maury Wills were ineligible, even if they left and came back, because I still consider them homegrown Dodgers.
I also went back and forth on whether to include international imports like Hideo Nomo and Hiroki Kuroda … this morning, I decided that I would make them eligible.
Wally Moon at first base is a bit of a stretch, but he did play some there, and it helped out with the ongoing overload of outfielders.  One of the more fascinating revelations of this exercise is how much the Dodgers have gone outside the organization for outfield help, relative to other positions. It's remarkable how many great seasons the team has gotten from outfielder outsiders – and these lists don't even include one-season-or-less wonders like Dick Allen, Steve Finley and Frank Robinson.
At positions like catcher and the middle infield, on the other hand, you can see the impact of having longtime homegrown solutions. It's slim pickings for the best of the imports.
Starting lineup (8)
Brett Butler, CF
Andre Ethier, RF
Manny Ramirez, LF
Wally Moon, 1B
Todd Hundley, C
Tim Wallach, 3B
Lenny Harris, 2B
Cesar Izturis, SS
Bench (7)
Rick Monday, OF
Kal Daniels, OF
Len Gabrielson, OF
Olmedo Saenz, IF
Alfredo Griffin, IF
Bill Madlock, IF
Chad Kreuter, C
Starting rotation (5)
Hideo Nomo, RHP
Derek Lowe, RHP
Claude Osteen, LHP
Hiroki Kuroda, RHP
Tim Belcher, RHP
Bullpen (5)
Takashi Saito, RHP
Ron Perranoski, LHP
Jeff Shaw, RHP
Terry Forster, LHP
Guillermo Mota, RHP