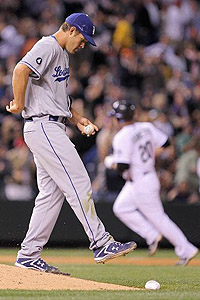 Doug Pensinger/Getty ImagesClayton Kershaw doesn't dig Chris Iannetta's fifth-inning homer.
What is a quality start for the Dodgers this year?
Given the expectations for the offense in 2011, I've been thinking that the definition might need to be lowered to a maximum of two runs, not three, over at least six innings.
On the other hand, when playing in Colorado's Coors Field, you'd think the Dodger offense might be able to step it up enough to let the starting pitcher allow that third run.
Three runs is what Clayton Kershaw allowed in six innings during his second start of the season, and it's hard to be very critical. He struck out eight, walked none except for one batter intentionally. He did give up a few hard hits, not the least of which were solo home runs by Troy Tulowitzki in the fourth inning and Chris Iannetta in the fifth that ended Kershaw's bid for a 0.00 ERA this season and put the Dodgers on the path to a 3-0 loss, their second shutout in five games this season.
Dominant? Not exactly. But quality? I'd say so.
Which brings ups back to the Dodger hitters. They had a few hard-hit balls of their own, but none that left the park, nor any that were particularly well-timed (the team went 0 for 4 with runners in scoring position and left six on base). Additionally, Colorado's defense was stingy rather than generous like San Francisco's fielders were most of the past weekend.
Tony Gwynn Jr. had a pretty nice game. He had the Dodgers' only extra-base hit, a double, and also took a double away from Todd Helton with a barehanded grab of his drive off the wall and quick return throw to second base to nail him. He also came as close as any Dodger to driving in a run, but with Jamey Carroll on third base and two out in the fifth inning, third baseman Ty Wigginton made a nice play to barely throw Gwynn out at first.
Andre Ethier singled and walked twice (once intentionally after Gwynn's double in the third), but Matt Kemp had his roughest night at the plate this year, going 0 for 4.
Dodger relievers Mike MacDougal and Blake Hawksworth slowed the Dodgers early season relief troubles with shutout innings of relief, keeping the game close, but Colorado pitchers Jhoulys Chacin (seven innings, seven baserunners, four strikeouts), Rafael Betancourt and Huston Street combined to retire the final 12 Dodgers in order. Carroll's leadoff single in the fifth inning was the Dodgers' last hit of the night.
* * *
From Tony Jackson's ESPNLosAngeles.com notebook:
Casey Blake is likely, but not definitely, going to be activated from the disabled list before Wednesday's day game, likely meaning that Ivan De Jesus Jr. won't get his first major-league hit for a while.
Jon Garland is scheduled for a rehab start with Rancho Cucamonga on Sunday. John Ely looks likely to take the Dodgers' major-league start in San Diego that day.
Vicente Padilla had a setback, hopefully a small one. He will see a doctor Wednesday after experiencing soreness following a 60-pitch simulated game.
Jay Gibbons will be with Albuquerque on a rehabilitation assignment, continuing to hope his newest pair of contact lenses solves his troubles.