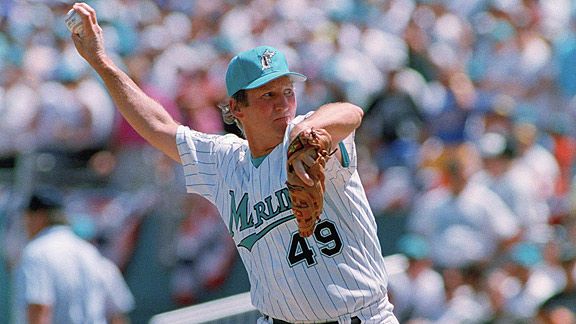 Lynne Sladky/APCharlie Hough was 45 years old when he threw the first pitch for the Florida Marlins.
Eighteen years ago today, I took a day off from grad school classes to stay in my Woodley Park apartment in D.C. and watch the Dodgers' first game of the 1993 season, a game that also happened to be the Florida Marlins' first game ever. Charlie Hough, a Dodger when I first became a fan nearly 20 years before, pitched the Marlins to a 6-3 victory over Los Angeles and Orel Hershiser.
It feels like a lifetime ago. Living out of California for the last time, writing my first screenplay, no job, no kids, no girl (though I fancied one). Twenty-five years old and no idea what was to come.
I can still feel the sun coming into my barely furnished apartment, the living room wide enough to swing a bat in. My brain was heavy, as it has so often been, but I was traveling light.