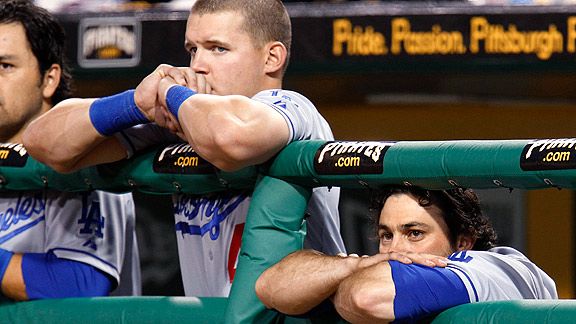 Gene J. Puskar/APJerry Sands and Aaron Miles during Monday's Dodger loss.
The Dodgers produced a feel-good win Tuesday night. The hitters hit, the pitchers pitched and a good time was had by all.
If only it didn't feel so unusual.
The victory showed what the Dodgers are capable of on a given night, but it didn't really change how capable they look this season.
Los Angeles entered the season riding a thin line. The pitching was going to be good if not great, but the hitting was the opposite, and the depth, outside of Vicente Padilla, almost non-existent.
And so while it seems crazy on the one hand to get down a team that is only three games below .500 and 3 1/2 games out of first place in the National League West, the weaknesses remain almost overwhelming.
How do you win without a decent on-base percentage, power or relief?
The hitting was always going to be borderline at best, and this is not best. Outside of Andre Ethier and Matt Kemp, the rest of the crew hits like Olive Oyl. James Loney has no power. Dodger left fielders are slugging below .300 this season with not a single home run. (Marcus Thames hit two as a pinch-hitter.)  Jamey Carroll and Aaron Miles are on hot streaks, but that's not a dependable offense.
It's reasonable to hope Loney will get an extra-base hit again sometime in his career, but the actual growth the Dodgers were counting on just doesn't seem to be coming.
Rafael Furcal's going to save this team when he comes off the disabled list? Furcal can be wonderful — an All-Star last year — but I don't think Furcal physically can be that big a difference-maker over the long haul any more. Nor is Casey Blake capable of hitting like he did at the outset of the season for any sustained period of time.
Meanwhile, if the bullpen can't protect the starting pitchers, day after day, there's not much hope one can offer. The pitching needs to be as reliable as the offense is unreliable. It needs to be stone-cold bulletproof. And for some reason, Hong-Chih Kuo and Jonathan Broxton have had the roof cave in on them in the same year.
But I don't know how you make changes to that bullpen without making things elsewhere on the roster worse. Call up Rubby De La Rosa, switch him to relief and expect him to be perfect? I bet he'd be good, but I don't think he can be that good. And he's still only one guy.
Short of a reversal of fortune in that pen — Kuo and Broxton get healthy and effective again — I don't think anything turns the Dodgers into a serious playoff contender at this point unless they trade prospects for a big bat. And while there are some trades I'd be willing to make, I'm not sure that the ones that aren't flat-out depressing are realistic.
I've seen teams have bad seasons — I've seen the 2005 Dodgers, who went 71-91 — and you're going to have to convince me this team isn't worse. You want to bring up guys like Mike Edwards? Edwards' 2005 OPS is higher than that of Loney, Miles, Juan Uribe and Jerry Sands/Tony Gwynn Jr.
The 2005 Dodgers were 19-12 on May 9 and had a 38-43 record until their best hitter, who happened to be their right fielder, was hit by a pitch and lost for the season. Imagine how the 2011 Dodgers would look if they lost Ethier for that long.
This year's team is looking more like the 1992 Dodgers, who lost 99 games despite a 3.41 team ERA that was sixth in the National League, because the lineup had become so decrepit.
If it were only a matter of health, or only a matter of the bullpen, or only a matter of the offense, I'd hardly sweat the current 3 1/2-game deficit in the NL West (five games in the wild card). The Dodgers will win their share of games, enjoy their occasional night where things go right instead of going wrong. But short of a major trade (or bad mojo for their rivals), I'm just not seeing how they put together a sustained run that surpasses both Colorado and San Francisco unless the bullpen reverses itself, with its two best relievers returning to form by the second half of the season, or the offense performs above its grade. For that, all one can do is hope.
I don't write these words lightly. It's been nearly 20 years since I felt this pessimistic about a Dodger team in May. With each first pitch, I hope I'm proven wrong.