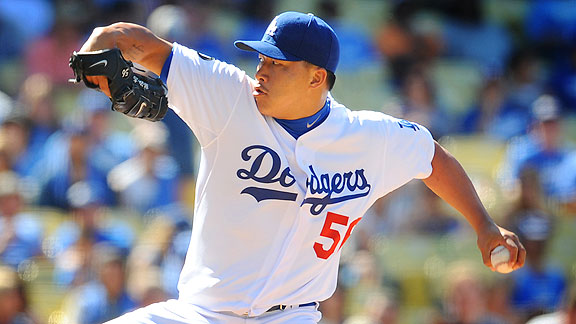 Jayne Kamin-Oncea/US PresswireHong-Chih Kuo has struck out eight of the 27 batters he has faced this season, while allowing 12 baserunners.
As far as the result of tonight's game goes – a 2-0 shutout of Pittsburgh – as long as Hiroki Kuroda is pitching shutout ball for seven innings, not even giving in when he wild-pitched the tying runs into scoring position in bottom of the sixth, the Dodgers will do just fine.  Now if Kuroda had committed the unforgivable sin of allowing two runs in his seven innings, it might have been another story …
But the bigger news of the day wasn't the Dodgers' doubling their win streak to two, or Andre Ethier extending his on-base streak to 35 games, or Jerry Sands' RBI double following an intentional walk to Rod Barajas and his sub-.300 on-base percentage.
It was Hong-Chih Kuo being placed on the disabled list for the second time this season and sixth time in his career, for a period that is expected to be significantly longer than the 15-day minimum. From Tony Jackson of ESPNLosAngeles.com:
… The official reason for the move was anxiety disorder, something that wasn't revealed by the club until 20 minutes before Wednesday night's game with the Pittsburgh Pirates at PNC Park, well after media access to the clubhouse and manager Don Mattingly was customarily cut off until postgame.

In announcing the move to the media earlier, Mattingly was conspicuously vague in describing what is wrong with Kuo.

"There isn't much of the story I can really share with you today," Mattingly said. "We're just kind of waiting at this point for approval from Major League Baseball on the verbiage … that we want to basically talk about." …

… Through Monday, Kuo had pitched three times in four days. For the season, he has an uncharacteristic 11.57 ERA in nine appearances and an even more uncharacteristic six walks in 4 2/3 innings, albeit with eight strikeouts. Kuo said Tuesday that he felt fine physically and that he wasn't sure why he had been struggling so much with his command, and Mattingly said Tuesday that Kuo continued to tell team officials he felt fine physically."When you're talking about Kuo, he is basically always hurting," Mattingly said Wednesday. "It's just at what level. His elbow is always hurting. It never goes away, really. It's just how much he can deal with. It is always there. … When I say he doesn't complain, it means that in talking with [trainer] Stan [Conte], when he says he is good to go, that means he can deal with it. His 'I'm OK to go' is different than being 100 percent.

"But he isn't good to go [now]."

Mattingly offered a definitive "no," when asked if Kuo was retiring, but he was noncommittal on whether Kuo might pitch again anytime soon. …

Kuo's career has always been living on a thin line, and my appreciation for how much he has contributed to the team knows few bounds. I'm betting we haven't seen the last of him, but there's just no telling when we'll see him on the mound again.
Called up to replace Kuo is a man whose career hit a mighty big speed bump of its own last year, Scott Elbert. Elbert has got his strikeouts going, and will do as well as his control allows. Here's more from Ken Gurnick of MLB.com:
… In 14 1/3 innings, Elbert has issued nine walks with 16 strikeouts. Seven of his eight earned runs allowed have come in two appearances.

He said his problems generally occurred when he was asked to pitch a second inning of relief.

"Mentally, I was prepared for one inning, which was my fault," he said. "I should be prepared for anything."

Elbert has had six previous Major League callups, but he said this one is different.

"I feel more relaxed," he said. "It's something that comes with maturity and nature, if that's what it means to be special," he said. "I'm not a new face to them. I'm not working to try to do too much. Let them hit it and put it in play. I've grown up a little bit. A lot of it is seeing my two kids and having patience with them.

"I just have to be myself and not worry what anybody else things about me. It's part of growing up." …
The Dodgers still might be forced to make another bullpen promotion, if Blake Hawksworth can't make a quick recovery from his groin injury (an MRI, reports Jackson, showed nothing serious).