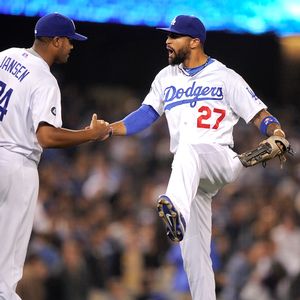 Mark J. Terrill/APMatt Kemp executes "The Crane" to topple Kenley Jansen at the All-Valley Karate Tournament.
It says something about Clayton Kershaw that he allowed back-to-back doubles leading off the first inning and loaded the bases in the third inning and still ended up pitching shutout ball. And by the end of his seven-inning outing, when he struck out 11 and retired his last 14 batters, he had gone from backpedaling to dominating.
It was the second-straight seven-inning shutout by a Dodger starter. Meanwhile, Los Angeles scored four runs, one unearned, and that was just enough to withstand the latest bullpen meltdown for a 4-3 victory.
Matt Guerrier allowed a run in the eighth inning, and Vicente Padilla allowed two in a 32-pitch ninth before Kenley Jansen came in and struck out Melvin Mora for the final out – the 15th strikeout of the game for the Dodgers.
By holding on, the Dodgers had their second three-game winning streak of the season and moved within 2 1/2 games of first place in the National League West despite an 19-20 record.
* * *
As if we hadn't gotten enough scary medical news lately, Zach Lee entered the picture. From Jim Peltz and Kevin Baxter of the Times:
… Lee, the Dodgers' first-round pick in last June's draft, was sent to the team's minor league complex near Phoenix for an MRI test on the right-hander's pitching elbow.

Lee complained of tightness in the elbow after his last start May 5, when he went a season-long six innings, giving up one run on five hits. But he lacked his usual sharpness, striking out just one, a career low.

DeJon Watson, the Dodgers' assistant general manager for player development, characterized the test as a standard procedure for young pitchers. He said the test showed no damage and that Lee, 19, would return to Great Lakes of the single-A Midwest League, though Watson said he did not expect Lee to pitch for 10 to 15 days.

"There's nothing wrong," Watson said. "We just want to make sure he's 100%."
Some happier tidings: Shawn Tolleson, who struck out 33 of the 56 batters he faced at Single-A Great Lakes while allowing only 12 baserunners and a 0.00 ERA in 15 innings, has been promoted to Rancho Cucamonga. (Thanks to Dodger Thoughts commenter Mike–Tink for the link.) In addition, Rancho Cucamonga reliever Steven Ames (60 batters, 28 strikeouts, 12 baserunners, 1.17 ERA) has moved up to Double-A Chattanooga.
* * *
Gathering dust: Scott Elbert has not pitched since May 9 and has thrown only one inning since May 6.
* * *
Today's game has an unusual 4:10 p.m. start. The shadows could be timely for the pitchers …