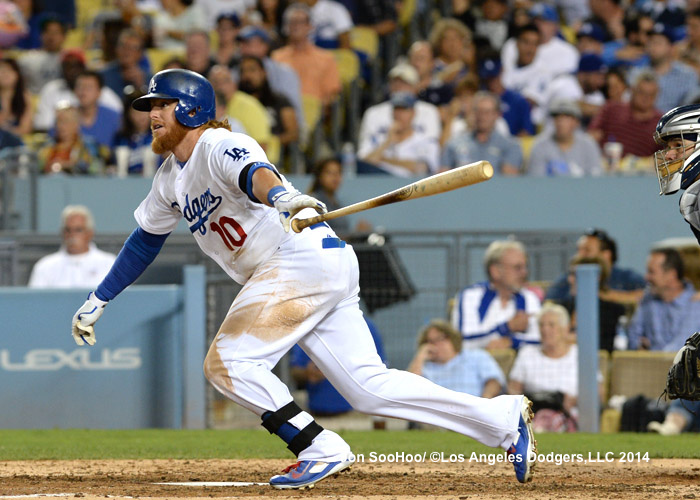 By Jon Weisman
For entertainment purposes, I'm about to oversimplify something that's far more complex than how I'm presenting it.
Nevertheless, I was curious what the Dodgers gained and lost in wins above replacement (WAR) from their moves during the 2013-14 offseason. And putting all other considerations aide, the scales almost balanced.
The Dodgers received 2.1 WAR from their 2014 additions, according to Fangraphs, while those who left the team after the 2013 season produced 1.8 WAR with their new clubs.
The big weight on the scale was Justin Turner, who delivered 3.2 WAR all by himself. Chone Figgins (0.6) was also useful in his abbreviated tenure. They more than made up for the departures of Elian Herrera, Nick Punto, Justin Sellers, Mark Ellis and Skip Schumacher.
The biggest loss for the Dodgers in WAR was Ricky Nolasco (1.2), who had a 5.38 ERA and 4.30 FIP in the first year of his four-year deal with Minnesota. Edinson Volquez (0.7), who signed a one-year deal with Pittsburgh, was more of a bargain, though not as much as his 3.04 ERA might suggest.
In the bullpen, Ronald Belisario, Javy Guerra and Shawn Tolleson combined for 0.8 WAR, which isn't much but proved better than what Chris Perez (-0.8) delivered.
Seth Rosin never pitched in a game for the Dodgers after being acquired on the day of the Rule 5 draft, but I included him here as someone they had and then let go.
Among the 2013 Dodgers who didn't play in the big leagues in 2014: Nick Buss, Jerry Hairston Jr., Peter Molyan and Michael Young.
Obviously, there are long-term issues, both coming and going, that I'm ignoring in this post, which is completely focused on the past season. Nor does it take into account salary, or 2013 free agents who returned to Los Angeles. But if you're curious, here are the numbers …