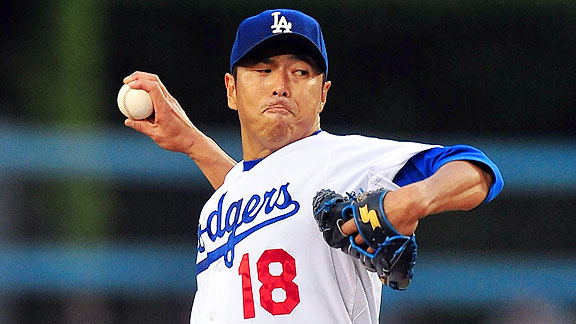 Gary A. Vasquez/US PresswireHiroki Kuroda has allowed two earned runs or fewer in six of nine starts this season.
It's hard to feel too low when you've got Hiroki Kuroda on your side. Lovely and amazing.
The 36-year-old turned in his second straight outing of shutout ball, going 7 2/3 innings in the Dodgers' 3-0 victory over Milwaukee, and now has an ERA of 2.80 that is 10th in the National League, a hair behind Clayton Kershaw's 2.75.
Kuroda gave up eight baserunners – six of them reaching scoring position, thanks in part to his first career balk – but he got himself out of every jam in the first seven innings, thanks in part to two big catches by Matt Kemp.
Kemp also hit a two-run homer in the first inning after a walk to Andre Ethier, and the score held until an RBI double for an insurance run in the eighth by Jerry Sands, driving in Juan Uribe, who went 2 for 3 with a walk.
Kenley Jansen scared the pants off the faithful by entering the game in the top of the eighth with a runner on and throwing seven straight balls, but Casey McGehee fouled out. Matt Guerrier then pitched a 1-2-3 ninth for his first save as a Dodger. Why was Guerrier closing the ninth instead of Vicente Padilla? The answer, my friends, is blowin' in the office of Dodger trainer Stan Conte.
To recap the last four Dodger victories:
May 17 – Dodgers 3, Brewers 0 – Vicente Padilla unavailable
May 13 – Dodgers 4, Diamondbacks 3 – Zach Lee MRI revealed
May 11 – Dodgers 2, Pirates 0 – Hong-Chih Kuo to the disabled list
May 10 – Dodgers 10, Pirates 3 – Blake Hawksworth hurts groin