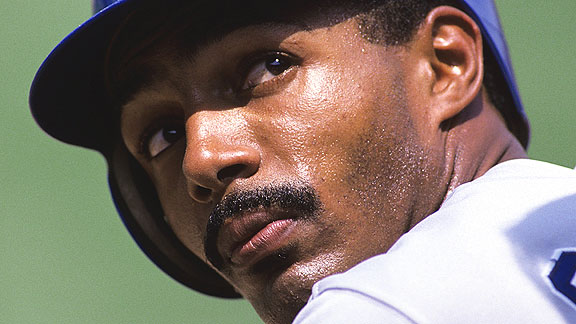 Ronald C. Modra/Sports Imagery/Getty ImagesJohn Shelby finished second on the Dodgers in home runs in 1987 at age 29, then declined.
As Dodgers watchers everywhere wonder how much latitude struggling James Loney will get, I thought I'd take a look at how much latitude others in similarly dire straits have gotten.
Loney has a .534 OPS, putting him firmly in position to have one of the worst Dodgers starts through the end of May of any regular since 1988:
Worst OPS through May
(minimum 3.1 plate appearances per team game)
.452 John Shelby, 1989
.457 Alfredo Griffin, 1988
.532 Mike Davis, 1988
.582 Cesar Izturis, 2003
.595 Jose Offerman, 1994
Source: Elias Sports Bureau (not adjusted for park factors)
Here's what happened next to those five:
John Shelby, 1989
Shelby came to the Dodgers in a May 1987 trade and hit 21 homers in 120 games. He declined in 1988 to a .715 OPS but still contributed 10 homers and respectable defense in center field for the World Series champs. However, the roof caved in the following year.
He finished April batting .186 with two extra-base hits — and then got worse. In May, he got two more extra-base hits, but his batting average fell to .168 — and then got worse. Still playing almost every day, he slid to .160 — going 0-for-10 in the 22-inning game at Houston — although he did hit his one and only home run of the year that month.
You might conclude that there was a lack of offensive alternatives, especially considering that injuries limited Kirk Gibson to 71 games, but Gibson missed only four weeks before the All-Star Game and played regularly in June (including an 0-for-8 game June 17 against San Diego). Mike Marshall was off to a slow start in right field, but on the bench was Mickey Hatcher, who batted .307 before the All-Star break. However, none of those three could really play center field — although the Dodgers did try Gibson there occasionally.
In June, the Dodgers called up 24-year-old Jose Gonzalez. He mostly rode the pine in the early going but got a week's worth of starts in late June and went 12-for-26 with three walks, at which point he began getting the majority of playing time in center field. Franklin Stubbs, Billy Bean without an "e" and Mike Huff were among those getting a shot, as the Dodgers looked for anyone who could help.
Shelby was sent to the minors in July by Dodgers general manager Fred Claire. "They said I could either come to Albuquerque … or be released," Shelby told the Los Angeles Times later that year. After an .810 OPS in 32 games with the Dukes and manager Kevin Kennedy, he returned to the majors to play much of the final five weeks in center for the Dodgers and hit his season peak. Unfortunately, that peak was merely a .248 batting average with only three walks to go with 26 strikeouts — a .583 OPS. He never got it together.
He remained a Dodger until the next June, however, before he was released. He signed with Detroit and homered in his first game as a Tiger.
Alfredo Griffin, 1988
Savvy readers will notice the Dodgers went to the World Series despite two horrific starts from newly acquired regulars. One was Griffin, who came in a big, multiplayer trade with Oakland with the intention of ending the Dodgers' shortstop-by-committee approach of 1987 (Mariano Duncan, Dave Anderson and Glenn Hoffman).
Griffin was hitting a robust .224 (.642 OPS) through April 23, then slumped to a .128 batting average and .334 OPS over the next four weeks, leaving him at .457 when he was sidelined for two months with a broken right hand from a Dwight Gooden fastball. Anderson got most of the starts in Griffin's absence and almost stole the job for good with a Jamey Carroll-like .309 batting average and .416 on-base percentage in his first 40 starts, but he tailed off dramatically just as Griffin was nearing his return.
Griffin, still probably not completely healed, had a .558 OPS the rest of the season, then went 7-for-41 with two walks and one extra-base hit in the postseason.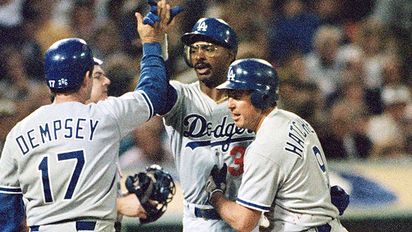 Eric RisbergMike Davis found redemption in the 1988 World Series.
Mike Davis, 1988
Before the '88 season, the Dodgers were counting on a free-agent signing in a big way — but until Gibson became available, that free agent was Davis, who hit 65 homers in his final three seasons with the A's. But Davis reached the end of May without a single long-distance call, struggling with a .210 batting average, .283 on-base percentage and .248 slugging percentage.
He started 38 of the Dodgers' first 41 games, but it was around the end of May that manager Tommy Lasorda's patience began to run out. Davis started only 11 of the next 81 games, although he never went more than a few days without an appearance. Mike Marshall moved to right field from first base, where Lasorda mixed together a combo of players including Hatcher, Stubbs, Danny Heep, Tracy Woodson and, until he got traded to St. Louis, Pedro Guerrero.
Stubbs would by default be considered the player who replaced Davis in the lineup, and the former first-round pick wasn't all that much to write home about with a .288 on-base percentage and .376 slugging for the year. But Davis never got any better. From July 25 on, he went 10-for-70 with six walks, a .394 OPS.
It was this year-long collapse that made the two-out walk he drew off Dennis Eckersley in the bottom of the ninth inning of Game 1 of the 1988 World Series so improbable and impossible in its own right. He then hit a home run in the clinching Game 5, matching his entire regular-season total.
Cesar Izturis, 2003
Izturis became the Dodgers' regular shortstop in 2002 at age 22, his first year with the team after coming in a trade from Toronto. As he was well above average in the field, the Dodgers were willing to tolerate almost anything from him with the bat, riding out a .512 OPS after May 1 that year.
The following season brought hope for improvement, but after a 5-for-9 start in an opening series at Arizona, Izturis was down to a .582 OPS through May. Unlike his predecessors on this list, his glove and health kept him in the lineup. He played 158 games in 2003 and started 154, even though he barely showed any improvement at the plate, finishing the season at .597.
Two years later, Izturis reversed his fortunes at the plate so dramatically that he was batting .342 at the end of May with an .812 OPS, numbers that propelled him to the All-Star Game despite a June in which he went 9-for-86 with four walks.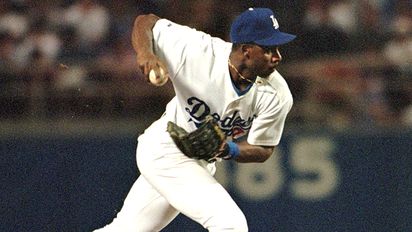 Kevork Djansezian/APJose Offerman played his last major league game in 2005 but never appeared at shortstop after 1996.
Jose Offerman, 1994
Once the most touted prospect in the Dodgers' farm system, Offerman launched his career in 1990 with a home run in his first major league at-bat. But through the first four seasons of his career, his career OPS was a mediocre .650 in nearly 1,500 plate appearances. That wouldn't have been so bad if, unlike Izturis, he hadn't become notorious for his fielding flaws, making 79 errors in 1992-93 alone.
In 1994, he got off to his worst start yet. Like Loney, he was able to string together some singles, going 15-for-44 over a two-week period, to get his batting average above .200. But when May turned to June, his OPS was still below .600.
Offerman stayed in the lineup in June, muddling along at the same pace. His major league season ended abruptly June 26 with a demotion to Albuquerque by Claire (who replaced him with Rafael Bournigal), about six weeks before labor strife ended the '94 season.
The crazy thing about Offerman is, unlike everyone else on this list, he actually earned some long-term bragging rights at the plate. Presaging Izturis, he parlayed a hot start to the 1995 season (.429 on-base percentage/.442 slugging through June) into a spot on the All-Star team. Still only 27 when the Dodgers sent him to Kansas City in exchange for pitcher Billy Brewer (who then went to the Yankees for Mike Judd), Offerman went on to play another decade in the majors, collecting more than 1,000 hits, twice leading the American League in triples and making the All-Star team again in 1998.
*Andruw Jones, 2008
You might be wondering why the notorious flail that was Jones wasn't on the list. He just missed having enough plate appearances to qualify for the above criteria. Had we relaxed that requirement, his .543 OPS would give him the fourth-worst start by a Dodgers regular since '88. He started 36 of the Dodgers' first 43 games. One year ago today, he made his final start before knee problems sent him to the disabled list, where he remained until July. Playing semi-regularly upon his return, he showed no improvement, going 10-for-63 with a .433 OPS and driving the Dodgers to make the end-of-the-month trade for Manny Ramirez.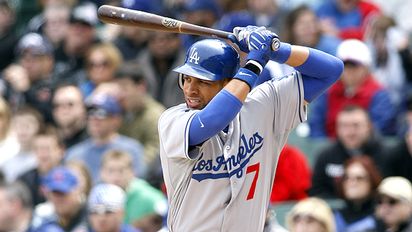 Jerry Lai/US PresswireJames Loney had an .810 OPS a year ago today. He's now at .534.
**James Loney, 2011
What does this all mean for Loney? A bad start doesn't have to mean the end of his career, although it would help if he were a middle infielder.
Anything can happen — all we have above are anecdotes — but it can't be a comfort to know that since 1988, none of the Dodgers who have started their seasons in similar fashions recovered before the year was out.