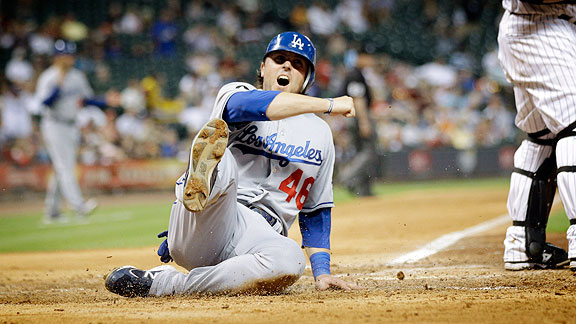 David J. Phillip/APRuss Mitchell scores in the seventh to give the Dodgers the lead … not for good.
I imagine a lot of Dodger hearts sank when, with the score 1-1 against Houston and two out in the top of the seventh inning, the Astros intentionally doubled Dioner Navarro and then intentionally walked Russ Mitchell.
Well, maybe the ground-rule double allowed to Navarro (his fourth hit of the season) wasn't intentional, but it certainly could have been part of a clever gambit, because after the two baserunners reached, Dodger manager Don Mattingly was compelled to pinch-hit for Clayton Kershaw after the lovely lefty had thrown only 84 pitches.
Instead of Juan Castro coming off the bench, however, it was Andre Ethier, held in reserve to rest him from his Sunday injuries. And all those beaten down by this 2011 Dodger team were pleasantly surprised for the second time in four games, as Ethier singled up the middle to drive in the go-ahead run – with an error by center fielder Michael Bourn allowing an insurance run to score – as the Dodgers held on for …
Oh, wait.
The front of the Dodger bullpen has actually been reasonably effective this month, but the bad times returned tonight. Kenley Jansen gave up three runs in the bottom of the ninth – all three coming across the plate with two out – and the Dodgers lost, 4-3.
Jansen struck out two of the first three batters, but then troubles and his pitch count mounted. Bourn doubled in the tying runs on a 3-2 pitch, and then after a hit batter, Hunter Pence singled in the game-winner on Jansen's 38th pitch of the inning.
And the descent continued …
Kershaw allowed six baserunners and struck out seven, his ERA dropping to 2.96 thanks to his allowing only the single run, on a leadoff double by Bill Hall in the fourth inning (that a better outfielder than Jay Gibbons would have caught) and an RBI single by Humberto Quintero. Though he did face a couple of two-on situations, no other baserunner passed second base against Kershaw.
Mike MacDougal and Matt Guerrier each pitched a shutout inning of relief before Jansen entered the game, though Guerrier himself put two baserunners on before getting out of his jam.
Matt Kemp's fourth homer in the past seven games, leading off the second inning, gave him 100 for his career. Kemp also stole second base, giving him 13 steals to go with his 11 home runs this season.
Jerry Sands walked three times – a lone strikeout interrupting what otherwise would be 10 straight times on base. Sands, who was already tied for the team lead in doubles, has now tied Jamey Carroll for third place on the squad in walks with 15, despite having barely half as many plate appearances. Sands has drawn a walk every 6.9 plate appearances, the best rate on the team for anyone with more than 75 plate appearances this season. You take what you can get …