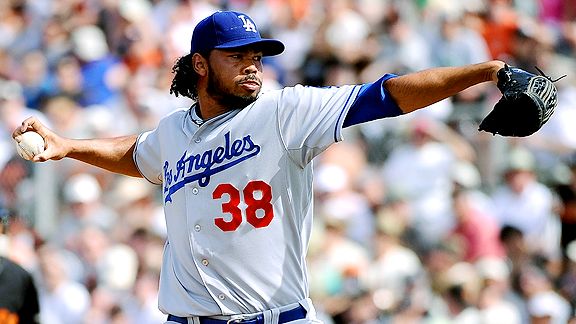 Kevork Djansezian/Getty ImagesRamon Troncoso – rising.
So, by now you know that the Dodger Cogs and Dogs rankings have always been a mixture of subjectivity and objectivity. For today's batch, there was an additional factor throw into the mix: exasperation.
In more cheerful news, Single-A Rancho Cucamonga scored 25 runs Wednesday, with Angelo Songco hitting for the cycle.
| | | | | | |
| --- | --- | --- | --- | --- | --- |
| Today | 5/5 | 4/28 | 4/7 | Player | Comment |
| 1 | 1 | 1 | 2 | Matt Kemp | According to Fangraphs, the best CF in the NL in 2011. |
| 2 | 4 | 4 | 1 | Clayton Kershaw | Will contend for NL strikeout title, but I'm guessing not wins. |
| 3 | 3 | 3 | 4 | Hiroki Kuroda | Rough outing Sunday lifted his ERA above 3.00 and slowed his All-Star bid. |
| 4 | 2 | 2 | 3 | Andre Ethier | Enters the final days of May with one homer, no doubles in the month. |
| 5 | 9 | 6 | 5 | Jamey Carroll | Leads MLB shortstops in OBP. |
| 6 | 6 | 7 | 18 | Chad Billingsley | His 0.64 HR/9 is best by a Dodger since Hershiser (minimum 800 IP). |
| 7 | 16 | 14 | — | Jerry Sands | Fourth on the team in RBI, and closing in on Uribe. |
| 8 | 11 | 11 | 13 | Mike MacDougal | Pitched three consecutive days for first time since September '09. |
| 9 | 13 | 9 | 6 | Rod Barajas | Kemp and Barajas have combined for 19 of Dodgers' 36 HR. |
| 10 | 17 | 18 | 14 | Ted Lilly | Despite allowing 10th homer in 11th start, moved ahead of Garland in ERA. |
| 11 | 5 | 8 | — | Jon Garland | ERA rose from 3.55 to 4.75 in last start. |
| 12 | 8 | 10 | 25 | Juan Uribe | From May 13-18, went from five to 11 walks. |
| 13 | 20 | 21 | 20 | Aaron Miles | Last Dodger to bat at least .280 with OBP below .300: Wilton Guerrero. |
| 14 | 12 | 12 | 8 | Matt Guerrier | Gave up first extra-base hit of 2011 to a lefty in ninth inning Weds. |
| 15 | 10 | 15 | 22 | Blake Hawksworth | Struck out two in shutout inning Wednesday for Rancho Cucamonga. |
| 16 | 7 | 5 | 10 | Casey Blake | Reached base 29 times in his 14 games. |
| 17 | 18 | 20 | 24 | Kenley Jansen | Ferocious strikeout rate should help him avoid pulling a Yhency. |
| 18 | 30 | — | — | Jay Gibbons | Second-most total bases (51) in Dodger history for player with below 30 career hits. (Marlon Anderson) |
| 19 | — | — | — | Javy Guerra | Unscored upon in five of six appearances. |
| 20 | 21 | 22 | 15 | A.J. Ellis | .443 OBP in Albuquerque, 12 walks, four strikeouts. |
| 21 | — | — | — | Scott Elbert | Opponents are 1 for 11 with one walk this year. |
| 22 | — | — | — | Rubby De La Rosa | Pedro Martinez shut out Reds in eighth and ninth inning of MLB debut. |
| 23 | 32 | 23 | 17 | James Loney | 0-for-4 Wednesday ended 10-game hitting streak. |
| 24 | 15 | 19 | — | Vicente Padilla | June will come with only 8 2/3 innings under his belt. |
| 25 | 19 | 16 | 9 | Jonathan Broxton | For a guy who claimed not to be hurt for so long, sure out a long time. |
| 26 | 22 | 13 | 19 | Marcus Thames | Gibbons has surged ahead with eight hits to Thames' six. |
| 27 | 27 | 29 | — | Dioner Navarro | Went 4 for 12 subbing for Barajas in Houston. |
| 28 | 14 | 17 | 12 | Tony Gwynn Jr. | This month: 1 for 24 with two walks, one steal. |
| 29 | 25 | 27 | 11 | Xavier Paul | In 3-for-25 slump for Pittsburgh. |
| 30 | 29 | — | — | Russ Mitchell | Most total bases (19) in Dodger history for player with below 10 career hits. |
| 31 | — | — | — | Juan Castro | In 17th MLB season, got 600th career hit Saturday. |
| 32 | 26 | 26 | — | John Ely | Has 3.78 ERA, compared to 6.19 for spring rival Redding. |
| 33 | 35 | 33 | — | Ramon Troncoso | The impossible dream – out of last place. |
| 34 | 28 | 30 | 21 | Hector Gimenez | Has same birthday as my brother, and one more career hit. |
| 35 | 31 | 31 | — | Jamie Hoffmann | Isotopes' HR leader with nine this year. |
| 36 | 23 | 24 | 7 | Rafael Furcal | They say he was rushed back, but he was 5 for 13 with three walks in Alb. |
| 37 | 33 | 27 | 26 | Ivan De Jesus Jr. | Has one double, no HR in 51 AB for Albuquerque. |
| 38 | 24 | 25 | 16 | Hong-Chih Kuo | Last May, pitched 10 2/3 innings, six baserunners, no runs, 15 K. |
| 39 | 34 | 32 | 23 | Lance Cormier | Lefties were 5 for 28 against him. |