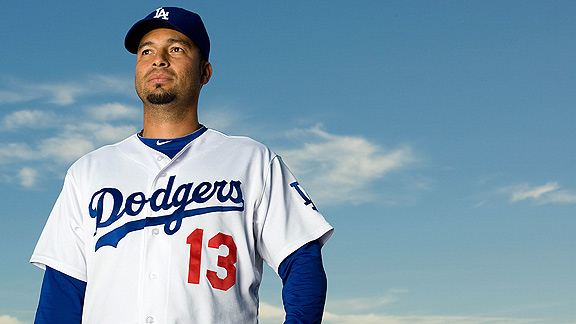 Jake Roth/US PresswireJuan Castro
Juan Castro has officially retired from baseball and taken a position as a special assistant to Dodger general manager Ned Colletti. He will spend time in player development and evaluation. You can see the full list of Dodger special assistants here.
"It was time for me to make the decision to end my playing career," said Castro. "I'm honored that Ned thought of bringing me back to the organization where I first signed as a young kid more than 20 years ago. I'm very excited to once again work for the Dodgers in a new and challenging role."
Amusingly, Castro had the highest batting average of his career in his final season, hitting .286 (4 for 14) for the Dodgers. Overall, Castro had a .229 batting average, .268 on-base percentage and .395 slugging percentage.
The Dodgers signed Castro on June 18, 1991, two days before his 19th birthday. Twenty years later, the defensive specialist retires with 17 seasons in the big leagues, 1,103 career games and 601 career hits. He also started the first triple play in Los Angeles Dodger history with a running, over-his-shoulder catch in 1996 in Atlanta.
According to the Dodgers, Castro fifth among Mexican-born players in games (1,103), at-bats (2,627) and doubles (123) while finishing seventh in home runs (36), runs (253), hits (601) and RBI (234).
* * *
The Dodgers' homerless streak has now reached 384 plate appearances. According to the Dodger press notes, the Dodgers' 10 straight games without a home run is the longest skein since July 6-12, 1992, a stretch that included the three post-riot doubleheaders against Montreal.
On the flip side, Ted Lilly will try to keep the Dodgers' scoreless pitching streak going. Los Angeles has thrown 27 consecutive scoreless innings, 11 shy of the team record of 38 from September 9-12, 1966.
Lilly, by the way, has been slotted third in the Dodger rotation after the All-Star Break, ahead of Chad Billingsley. That puts Lilly in a day game at Arizona a week from today, instead of a night game in San Francisco if he had gone fourth.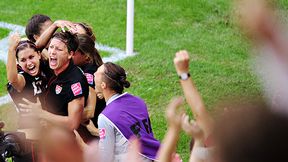 Johannes Eisele/Getty Images
* * *
Congrats to the U.S. women's soccer team for its remarkable comeback victory over Brazil today. I only saw the extra time and penalty kicks, but wow.