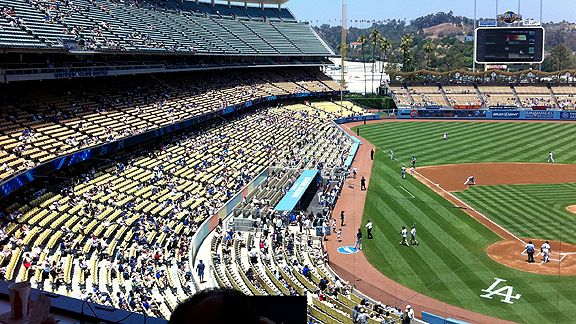 Jon Weisman/ESPNLosAngeles.comDodger Stadium at the first pitch.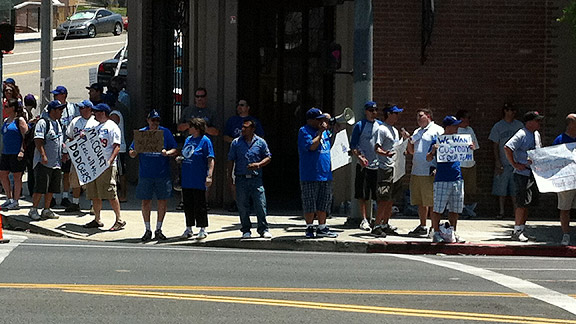 Jon Weisman/ESPNLosAngeles.comScene minutes earlier at the corner of Sunset and Elysian Park
The crowd Saturday at the first fan-organized protest against Los Angeles Dodgers owner Frank McCourt might have been small, though nothing felt as sparse as the inside of Dodger Stadium.
About 75 people gathered at the southeast corner of Sunset Blvd. and Elysian Park Ave., down the hill from the ballpark, in the hour before Saturday's Dodgers-San Diego Padres game for the "We Take Our Team Back" demonstration, designed to draw more attention to the frustration a number of Dodger fans have with the team ownership situation.
That turnout was less than organizer Roger Arrieta of West Covina, Calif., anticipated, but perhaps reflected a crowd that largely chose to avoid all things Dodgers on a vintage Southern California summer day.
"It's a step," said participant Joe Gonzalez of Boyle Heights.
As galvanized as the boycotters were by their protest, they might have been even more heartened by what was happening inside the stadium. The season-long attendance decline, amped by a national TV broadcast of a game originally scheduled for the evening, led to swaths of empty seats for the first pitch, at a level that even the cliche of late-arriving Dodger fans couldn't explain.
Dodger attendance this season, amid increasing dissatisfaction with ownership and a team that has fallen into last place, is more reliant than ever on discounts just to mitigate the decline, something that wasn't lost on protester Jesse Delgado of Monrovia, who manned the megaphone with equal parts anger and levity.
"Do not support the McCourts!" chanted Delgado. "Do not fall for his $1 hot dogs!"
Delgado earlier commented that while fan grievances toward McCourt might be well-known, there was an urgency for a solution.
"Our biggest concern as fans is, is it going to be in a timely manner, before (Matt) Kemp and (Andre) Ethier leave as free agents?" Delgado said. "How long can McCourt damage our team?"
Noting the declining attendance, Gonzalez believes that non-Dodger fans should take up the cause.
"The teams back East are used to getting revenue sharing," he said. "They're used to getting 40-45,000 a game (at Dodger Stadium). … They should be out here."
With fans chanting, holding signs and buying and selling anti-McCourt T-shirts, Arrieta monitored reaction to the protest on his cellphone. The rather soft-spoken organizer calmly discussed his amazement at the state of the franchise and its fans.
"I just want to keep drawing more attention at this," Arietta said. "Frank comes out and says, 'I just keep doing this for the best interests for the community.' Does he not see what's going on?"