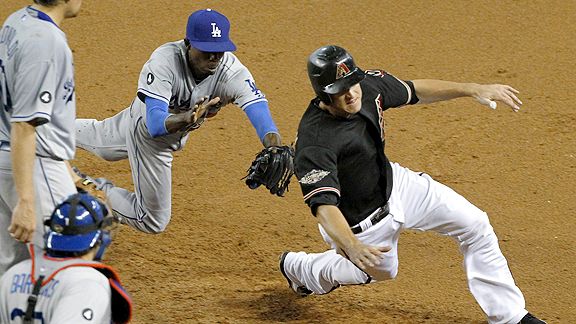 Ross D. Franklin/APDee Gordon dives to tag Kelly Johnson, but ends up not sticking the landing.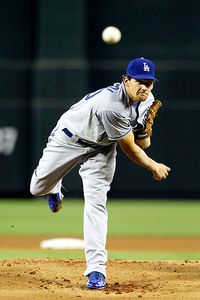 Christian Petersen/Getty ImagesNathan Eovaldi followed through on his first big-league start.
Hey #dodgerfans I'm gonna be ok, just tweaked my shoulder alittle bit…I'll be back really soon!!!
– Dee Gordon on Twitter
So, yeah, to lose Rubby De La Rosa and Dee Gordon in one week? That would have been unreal.
Instead, despite Gordon's awkward tag on a rundown play in the third inning tonight that forced him out of the game following his thud on his right shoulder, the report is that he did not suffer a sprain or dislocation, and should be back in a few days (allowing for the math of Dodger medical reports).
And so a good first start for Nathan Eovaldi was not spoiled. The 21-year-old allowed two runs in five innings and was the winning pitcher in the Dodgers' 5-3 victory over Arizona.
Eovaldi struck out two batters in a perfect first inning and was a strike away from re-feating in the second when Ryan Roberts worked out a walk. Eovaldi then allowed a single, another walk, and then a two-run single to opposing pitcher Joe Saunders that seemed like it had removed all the pixie dust from the youngster's debut.
Instead, Eovaldi only faced one batter over the minimum (thanks in part to Gordon) for the remainder of his outing, striking out seven in all, and even got his own first major-league hit and run.
Eovaldi was said to be on a 90-pitch limit for the day, but came out after 77 when the Dodgers put together a two-run top of the sixth to take a 4-2 lead. The bullpen allowed one run over four innings, with Scott Elbert giving Javy Guerra a rest and picking up his second save of the season.
Sunday, Clayton Kershaw pitches to try to give the Dodgers their first road sweep of 2011.