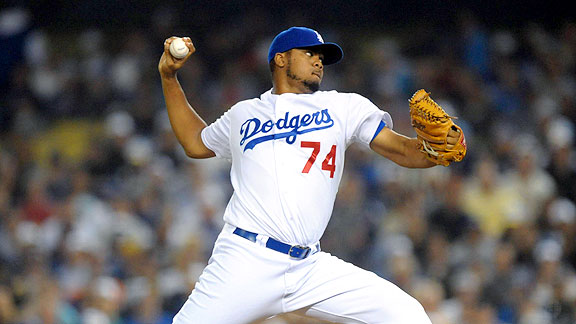 Kirby Lee/US PresswireKenley Jansen has allowed two runs since June, while stranding all nine runners he has inherited.
Keeping this as concise as possible in the interest of time:
Kenley Jansen has struck out 25 of his past 40 batters.
Kenley Jansen has gotten 25 of his past 31 outs via the strikeout.
Kenley Jansen is so overwhelming right now, a Giants blog, Bay City Ball, rhapsodized about him.
Kenley Jansen has a WHIP of 0.671 since coming off the disabled list in June, allowing eight singles, a double and 10 walks in 28 1/3 innings.
Kenley Jansen has allowed a .098 batting average, .192 on-base percentage and .109 slugging percentage in that time.
Kenley Jansen is the Dodgers' most dominant reliever, the reliever you'd most trust to get an out when you need it.
It is for these reasons that I hope the Dodgers do not make Kenley Jansen a closer next season.
Tuesday's victory illustrated why. If Jansen were the closer, Dodger manager Don Mattingly would have held him back until the ninth inning, rather than having him come put out the fire when Clayton Kershaw gave up a home run and two walks in the eighth inning.
It's far better that Jansen be available at the game's biggest crisis point, whatever inning that comes.
My hope is that if Mattingly feels he must have a regular closer in 2012, he is seduced by Guerra's 19 saves in 20 opportunities and keeps him in that slot. Nothing against Guerra, who has been one of the season's most pleasant surprises, but he is not a smokejumper like Jansen, who looks more capable of putting out the toughest fires than any other Dodger reliever.
* * *
With Colorado's loss to San Diego today, the Dodgers' clinched no worse than a third-place finish in the National League West.
Matt Kemp could be the first NL player to finish in the top two in home runs and steals since Hank Aaron in 1963, according to Eric Stephen of True Blue L.A.
From the Dodger press notes: "Since Aug. 1, James Loney leads the National League with a .359 batting average (51-for-142) and ranks among the league leaders in doubles (15, T-1st), on-base percentage (.425, 4th) and slugging percentage (.627, 2nd)."
Kenny Shulsen of Lasorda's Lair predicted Jerry Sands' home run off Tim Lincecum on Tuesday — a home run, I believe that will be remembered when debating Sands' potential this offseason.
Tuesday was the 50th anniversary of the Dodgers' final regular season game at the Los Angeles Memorial Coliseum, notes Keith Thursby at the Daily Mirror, which also features a Jim Murray column commemorating the event. Sandy Koufax struck out 15 in a 13-inning complete-game victory. If Baseball-Reference.com is accurate, Koufax threw 213 pitches in the game.