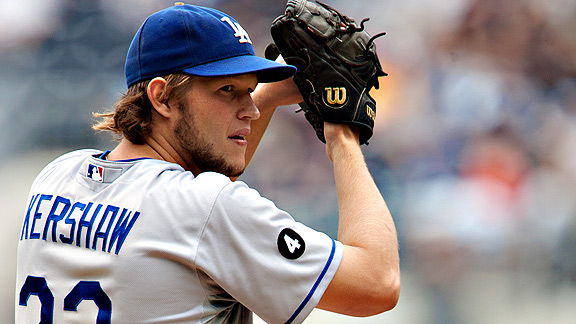 Kent C. Horner/Getty ImagesClayton Kershaw allowed a walk, a single, a double, a triple and a home run in 7 1/3 innings.
Having provided joy to the world, the fishes and the deep blue sea all season long, Clayton Kershaw can expect a little joy for himself: the National League Cy Young Award.
If Jeremiah was a bullfrog and Orel was a bulldog, Clayton is the whole hog.
Kershaw put the final touches on his portfolio today, finishing his 2011 campaign with a 2.28 ERA and 248 strikeouts, both of which lead the league, while winning his 21st game in the Dodgers' 6-2 victory over San Diego – all but ensuring himself the pitcher's triple crown.
(It was the Dodgers' 80th victory of the year, putting them one away from a winning season.)
Today for Philadelphia, Roy Halladay pitched six shutout innings, striking out three, to finish at 19-6, 2.35 with 220 strikeouts. Cliff Lee, scheduled to pitch Monday for the Phillies, has allowed 60 earned runs in 226 2/3 innings for a 2.38 ERA with 232 strikeouts. He needs 16 strikeouts to match Kershaw, and would need to pitch at least 10 2/3 shutout innings to beat him for the major-league ERA title.
So short of Ian Kennedy making a relief appearance against the Dodgers on Monday, Tuesday or Wednesday and stealing a 22nd win, the triple crown belongs to Kershaw, who also leads the National League in park-adjusted ERA.
Meanwhile, though he didn't reach 250 strikeouts and catch Justin Verlander for the major-league lead, Kershaw finished 2011 with the most strikeouts in Los Angeles Dodger history in a season since Sandy Koufax retired (per the Dodger press notes):
382 Sandy Koufax, 1965
317 Sandy Koufax, 1966
306 Sandy Koufax, 1963
269 Sandy Koufax, 1961
251 Don Drysdale, 1963
248 Clayton Kershaw, 2011
* * *
Kershaw retired the first eight batters he faced today on 29 pitches, striking out four of the eight, before an inexplicable walk to Padres pitcher Cory Luebke, but Kershaw struck out Cameron Maybin to end the third inning.
In the fourth, Kershaw allowed his first hit, a line single by Nick Hundley, but immediately picked him off – Kershaw's 10th pickoff of the season, according to Vin Scully.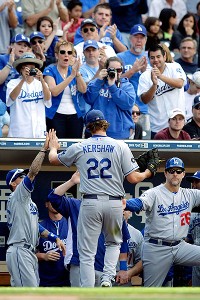 Chris Park/APKershaw is congratulated as he leaves the field for the last time in 2011.
The Padres finally scored against Kershaw in the fifth inning, when Aaron Cunningham hit a no-doubt homer with the bases empty and two out in the fifth. It was Cunningham's third homer this season and sixth in his career.
Aaron Miles made two plays to take away San Diego hits, highlighted by a spectacular diving stop of a second-inning shot by Orlando Hudson that would have been a double. In the fifth, Miles charged less gracefully on a slow Alberto Gonzalez grounder and threw late to first, but the Dodgers' got the generous call.
Retiring the side in order in the sixth and seventh innings on 25 tosses, Kershaw entered the final two innings having thrown only 82 pitches. But in the eighth, the two players robbed by Miles got their revenge. Hudson got his overdue double to lead off the inning, then scored the Padres' second run on Gonzalez's triple one out later to cut the Dodgers' lead to 6-2.
Don Mattingly came to the mound, and we bid farewell to Kershaw for 2011.
Kenley Jansen relieved Kershaw, and just as he did against the Giants on Tuesday, he struck out both batters he faced. That put Jansen at 16.10 strikeouts per nine innings this season, making him at this point the all-time single-season record holder in that category with three games remaining in 2011. Jansen has struck out 31 of his past 49 batters, including 31 of his past 37 outs.
Javy Guerra pitched the ninth with a four-run lead, so he didn't get a save, but he did preserve the victory for the magnificent Kershaw.
* * *
On the Triple Crown and Most Valuable Player scene, Ryan Braun continued to make it a challenge for Matt Kemp. Braun went 2 for 3, including his 33rd home run, in Milwaukee's rout of Florida, boosting his batting average to .333 and giving anyone leaning toward him for MVP that much more ammunition.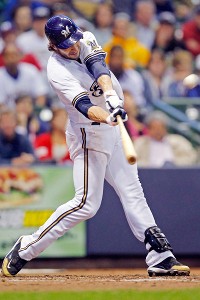 Jeffrey Phelps/APRyan Braun went 5 for 10 with a walk and 14 total bases in three games against Florida.
Jose Reyes, meanwhile, went 2 for 4 to improve his batting average to .331.
Kemp got off to a good start, with a double to the left-center gap that raised his average to .326 and drove home Jamey Carroll with RBI No. 120.  But then fortune stopped smiling.
In the third inning, Kemp hit a sky-high ball to the warning track in right-center field that Scully said would have been a home run in Dodger Stadium.
In the fifth, Kemp reached first on a slow roller that went under the glove of Padres third baseman Alberto Gonzalez, a ball that the official scorer seemed to correctly call an error, though some tweets from the press box indicated that the decision would be reconsidered after the game.
In the seventh, Kemp struck out against reliever Luke Gregerson on three pitches, leaving him .008 behind Braun.
In the ninth, granted an extra at-bat when Rod Barajas hit an eighth-inning home run to give the Dodgers a 6-1 lead, Kemp struck out again.
Kemp did come away with the 18th season of at least 120 RBI in Dodger history.
It's not over for Kemp, however, as far as the Triple Crown. An 0 for 4 from Braun would knock three points off his batting average in one day – if Kemp can rev up his bat in Arizona, he's back in business.