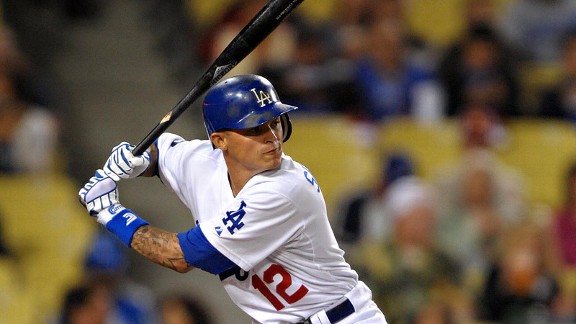 Kirby Lee/US Presswire
Justin Sellers
The setup: With the Dodgers, his third organization as a minor-leaguer, Sellers began working his way onto the radar in 2010, when the shortstop hit 14 home runs in 288 at-bats with Albuquerque. He performed similarly in 2011, knocking 14 homers in 270 at-bats for the Isotopes while increasing his on-base percentage to .400. When Rafael Furcal's replacement, 23-year-old homegrown prospect Dee Gordon, went on the disabled list on August 11, the 25-year-old Sellers got the proverbial break he was looking for.
The closeup: Sellers made an impression quickly, not just with his everywhere-you-look tattoos but with a home run in his third major-league game, after which he gave a memorable postgame TV interview while holding his 2-year-old daughter in his arms. During Gordon's three-week absence, Sellers started 16 games at shortstop with a .714 OPS, while looking reliable and occasionally acrobatic in the field. Rather quickly, support began to build for the idea that Sellers could become the Dodgers' starting second baseman next to Gordon in 2012, or at least a replacement for utility infielder extraordinaire Jamey Carroll.
Unlike several other Dodger rookies, however, Sellers suffered through a miserable September. He went 9 for 60 with a .227 on-base percentage and a .217 slugging percentage, and needed to go 2 for 4 in the season finale just to reach those heights. He finished 2011 with a .283 on-base percentage and .301 slugging percentage in 139 plate appearances.
Coming attractions: The Dodger infield is in flux, with Gordon arguably the only current member of the 40-man roster assured of a starting job. Casey Blake is likely gone, no one's quite sure of what will happen with James Loney, and Don Mattingly has indicated that even Juan Uribe needs to prove himself. Carroll and Aaron Miles are free agents, but even if both returned, a bench role could be Sellers' market. But thanks to his final-month performance, he would appear to be more of a fallback option than one at the forefront, and certainly an unlikely choice to be a starter Opening Day.